This giveaway is now closed. Winners (all ten of you!), you'll be contacted by Katie shortly. Congrats!
One of my readers, Katie Fisher, is a Shaklee rep, and she offered to send me a Get Clean kit so that I could try the products and let you know what I think of them.
I've never use any Shaklee products, but the company's goal is to make non-toxic, biodegradable cleaners that are gentle on the environment and on our bodies, and both of those things piqued my interest.
Here's what came in my box: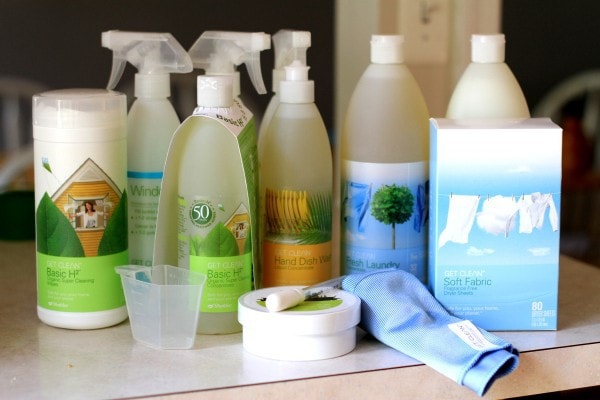 Shaklee's most famous product is the organic Basic H concentrate, which you can use to make several different kinds of cleaners. This kit includes three empty spray bottles (one for window cleaner, one for a basic spray, and one for a degreaser), a dropper for measuring the concentrate, and a bottle of the Basic H itself.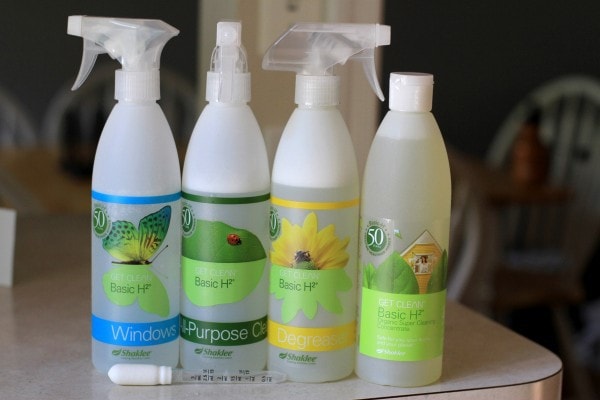 You just follow the directions to mix up the three different cleaners.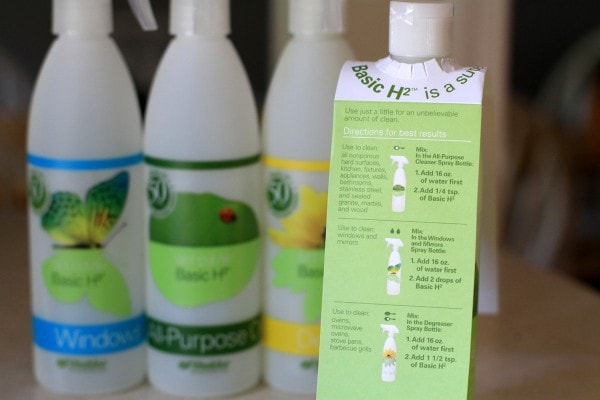 I wasn't sure how well these would work, given the teensy amount of concentrate, but so far, I'm pretty impressed. All three of the formulas work just fine, and given how little of the concentrate is needed for a bottle, this container of Basic H is going to last me nigh onto forever.
So, the cleaners work as well as regular cleaners, in my opinion, they're organic and biodegradable, and they cost just pennies per bottle. Thumbs-up!
I liked the laundry detergent (it has a great but gentle scent!) and it worked just as well as my regular detergent. But I wouldn't say this was as amazing a bargain as the Basic H concentrate.
The dish soap works as well as traditional dish soap too, but again, it's not as much of a screaming bargain as the Basic H concentrate.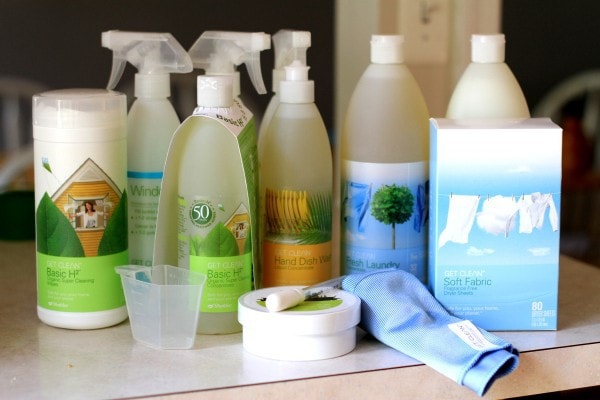 Two of the products were items I don't generally use…dryer sheets, and liquid fabric softener. I don't know if it's because of the type of water we have, but I just don't typically have trouble with stiff clothes. So, I gave those to a happy person on Freecycle.
Oh, and I usually don't use cleaning wipes either. The ones from Shaklee are recyclable, in theory at least, (I don't think my area is set up to recycle them) and they're organic, but for environmental and budgetary reasons, I think I still would choose to use sponges and washcloths for cleaning.
I gave these a try, but I thought they were sort of annoying to use for things like cleaning bathroom sinks (I really prefer a sponge). However, I found that they ARE awfully convenient for cleaning the hard surfaces inside a car. Normally I use a washcloth and a pitcher of water, but these do make the job easier.
So!
The Get Healthy Home Kit I received is indeed very nice, but it's also a little pricey. And if you don't need all the different cleaners in the pack, you'd probably be better off buying some Shaklee products a la carte.
For example, you can get a bottle of Basic H organic concentrate for only $12, and you can re-use older spray bottles to make your bottles of window cleaner, basic cleaner, and degreasing spray (although the three-pack of bottles isn't that expensive). The one bottle of Basic H will make somewhere around a bazillion bottles of spray cleaner, so the $12 price is a great deal.
Appropriately enough, Katie is giving away 10 sample packs of my favorite Shaklee product, the Basic H concentrate (enough to make two bottles of cleaner, using your own spray bottles) to Frugal Girl readers.
To enter, just leave a comment sharing your best cleaning tip.
For an additional entry, go like Katie's Healthy Haven facebook page, and then come back and leave a separate comment saying that you liked the page.
disclosure: I received a complimentary Get Healthy Home kit, but was not otherwise compensated for this post or giveaway. All opinions are my own.
______________________
Joshua's 365 post: Birthday Presents from Thomas