1. We got a "free" cat
Meet Chiquita!
Soo…I'd been thinking for a little while that perhaps when Lisey moved out, a second cat would be a nice thing for Zoe.
It's hard being the youngest, I think, and the only kid left at home with mom. 😉
We visited two SPCA shelters, but eventually we ended up back at the shelter where we adopted our first cat, and Zoe fell in love with this little dilute calico.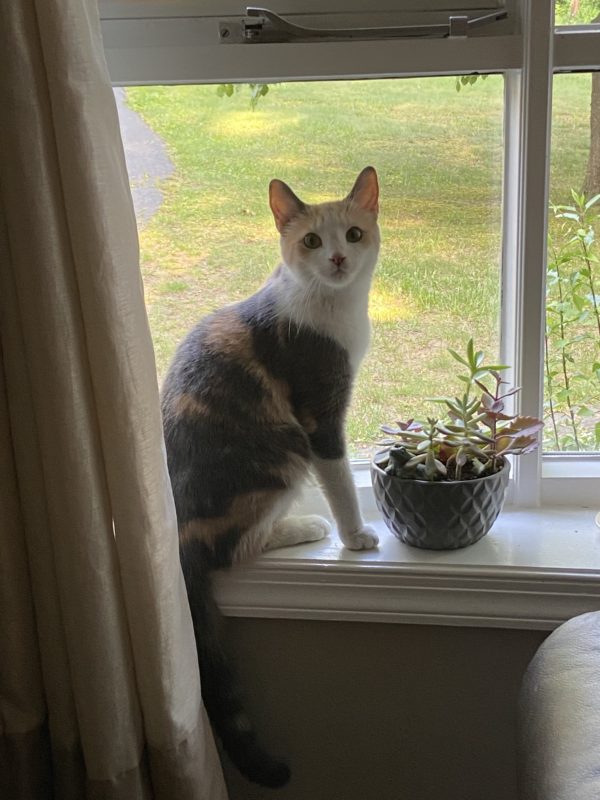 We have her home on a foster-to-adopt basis right now, because her spaying appointment is still coming up. But she will be free to adopt after her appointment.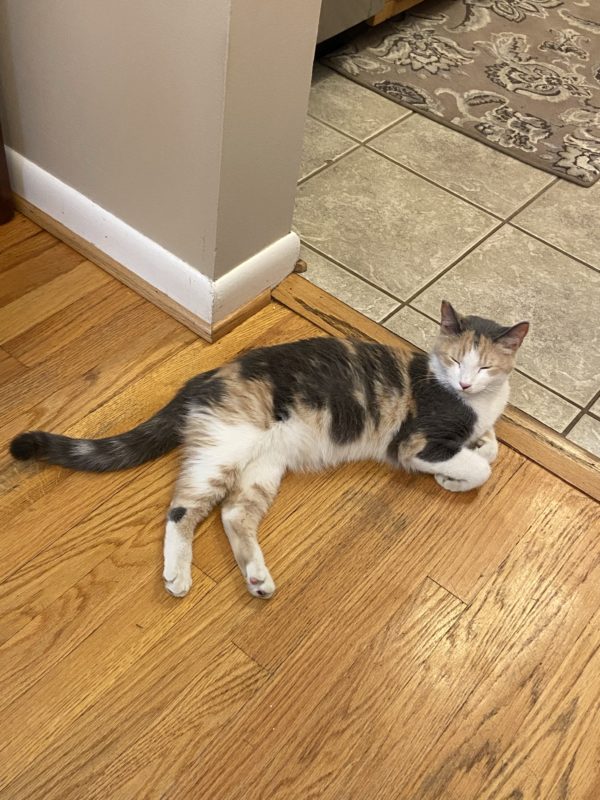 I know no cat is actually free, given the costs that will arise down the road.
But some of the adoption centers here charge up to $250, so this is definitely a bargain.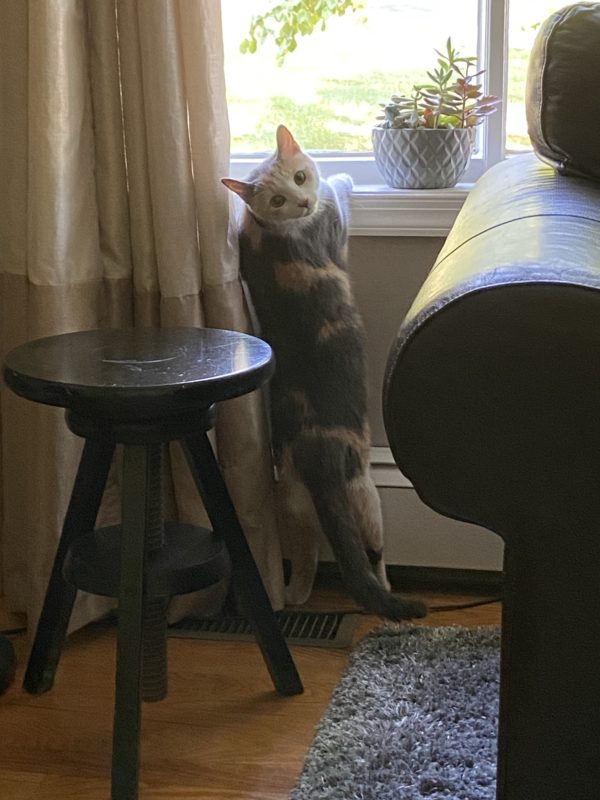 And I think she and Zoe are going to be very good friends.
(Will Chiquita and our other cat be good friends? Time will tell once we introduce them in the future. We're supposed to keep them separated for a while at first.)
She's a year old, so she's definitely got more energy than our other cat (she's 12!). But she's not quite as crazy as a kitten, so this is a nice middle ground. 🙂
2. I got some free food and water bowls
There was a corner full of free-for-the-taking items at the shelter, so I picked up a water bowl and food bowl for Chiquita.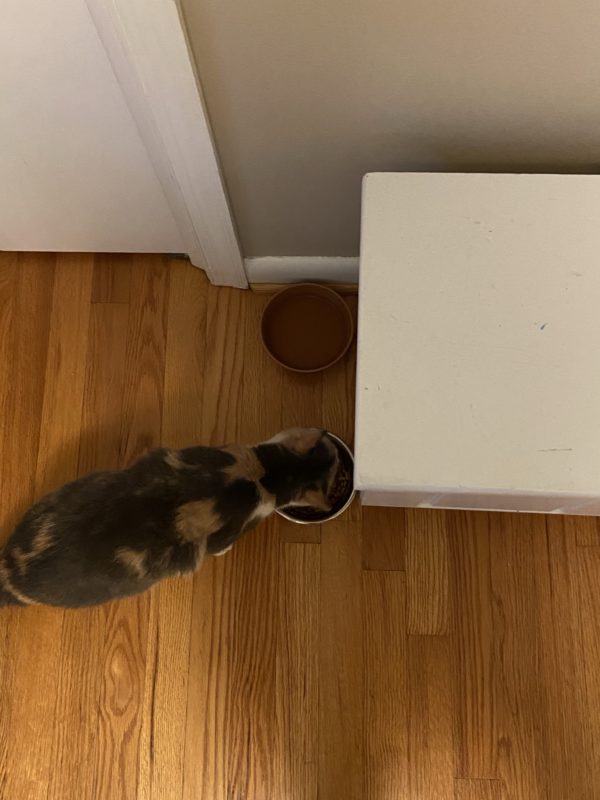 3. I ordered some furniture protector sheets
Miss Chiquita seems like she might be a little more prone to furniture scratching than our other cat….so I ordered some of those clear sticky sheets to put on our leather furniture.
If she scratches the downstairs couch, I don't care! That one was free, and it came with some prior cat damage already.
But my leather couches are still ok, and I'd like to keep them that way. If the sticky sheets work, they will be VERY worth the investment.
4. I ordered a second-hand hair dryer
Lisey and I were sharing a hair-dryer, but she took it to Hawaii (which was fine with me, of course!)
My mom had ordered a new version of the Conair dryer we had, and apparently something changed, because the new one had almost no blowing power.
So, I knew I didn't just want to order a new one. I hopped onto eBay and found an old one for $8, and now it's on the way to my house.
Hopefully it'll be working well; I'll let you know!
5. I used up leftover rice and sauce
I made chicken katsu for dinner the other night, and I ended up with some leftover rice and sauce.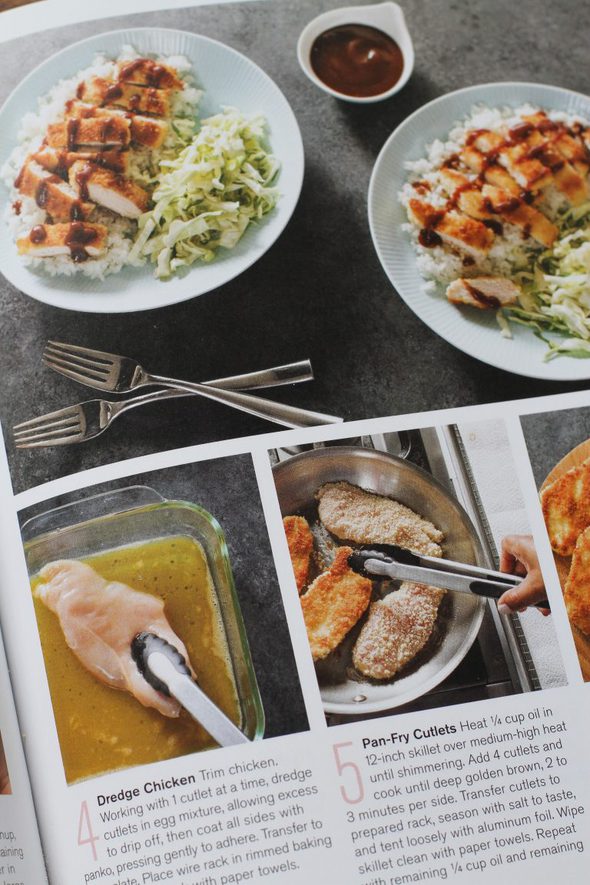 Sooo, I fried some eggs this morning, put them over the rice, and added some sauce on top.
Your turn! What frugal things have you been up to?