Amazon links are affiliate links.
I'm continuing a pattern of not making the new recipe I plan to make!
My newest Cook's County magazine arrived this week, and one of the 30-minute recipes looked intriguing to me, so that's what I tried.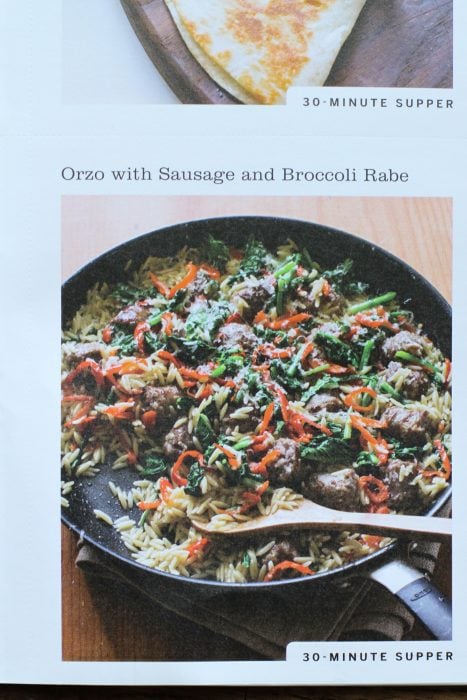 (I like Cook's Country better than Cook's Illustrated as far as magazines go. I almost always get a good dinner recipe or two from each issue, which makes the $4/issue subscription price totally worth it!)
This was an easy skillet meal, and since it's got protein, veggies, and pasta, it's pretty much an all-in-one meal.
I switched it up a little bit based on what I had on hand.  I subbed local asparagus for the broccoli rabe, and I used some sliced red sweet peppers instead of the jarred peppadew peppers.
I'm pretty sure I'd have liked the peppadews, since I'm into spicy.  But I had mercy on my family.
(I did sprinkle red pepper flakes on my serving for some heat.
)
Also, I think the recipe was calling for actual white wine, but I used cooking wine instead.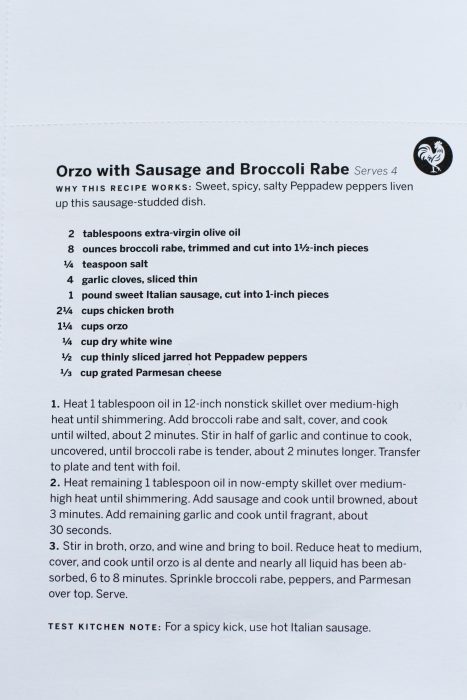 Unfortunately, I don't have a picture of my finished dish. When Mr. FG came home from work, he was like, "Hey, want to go for a bike ride?"
So, I turned the stove burner off and went riding with him. Not gonna lie, that's a pretty nice benefit of having older kids…you can just up and do things like this on the spur of the moment!
Anyway, we ate dinner later than usual and it was pretty dark by then. I'm so spoiled by the natural dinner light, I felt completely unmotivated to take a photo under the artificial lights.
Regardless, we all liked this dish and agreed it's a keeper.
Yay!
I'm always super thrilled to have a fast dinner recipe to add to my files.
Next Week's Recipe
Given my track record of not sticking with my new recipe plans, I'm not sure how helpful making a plan is!
But I did notice these teriyaki chicken kebabs on the same page where I found the orzo and sausage recipe, and I'm thinking maybe I'll try them.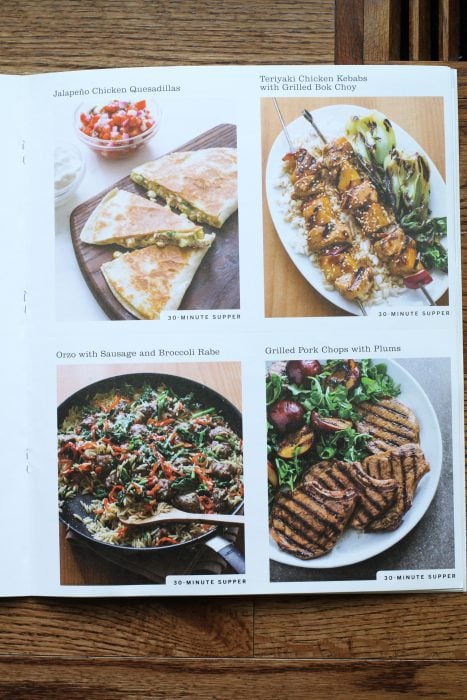 And guys, seriously.  If you are in need of some new recipes, go subscribe to Cook's Country. I really, really don't think you'll regret it.
What new recipe did you try this week?
Share in the comments!
P.S. Cook's Country is totally not paying me, and I pay for my subscription with my own money.  Legitimate Cook's Country enthusiast here.
Save