Before we get to that, I wanted to tell you that last night, I realized that in yesterday's Q&A post, I should have asked you guys to chime in with your advice about dealing with negative comments. I know a number of you have blogs of your own, and I'm sure you have some good thoughts to share. So, if you didn't already, add your voice to the comments!
(I was going to say something right here like, "on to the topic at hand!" but really, since this is a random post, that paragraph above should feel right at home.)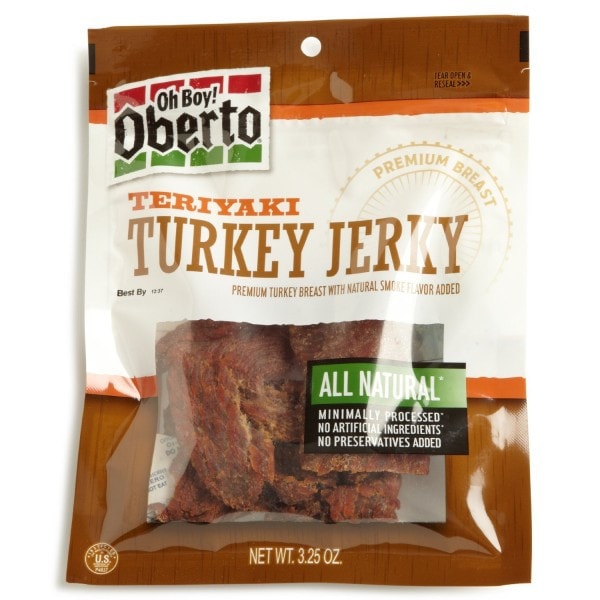 I recently received 3 free bags of Oberto jerky to sample…one bag of beef, one bag of BBQ pork, and one bag of teriyaki turkey jerky.
I go back and forth with how I feel about beef jerky. Sometimes I love it, and sometimes I think it's right on par with shoe leather. But, my kids love jerky, and since it's not sugary or refined, I don't mind if they eat it.
The Oberto jerky ingredients are pleasingly simple and real, which makes for a happy me. And it's tasty…my kids and I managed to eat all 3 bags in short order. Our favorite variety was definitely the turkey jerky. It seemed a bit more tender, and the mildly sweet teriyaki flavor was so good.
__________________________________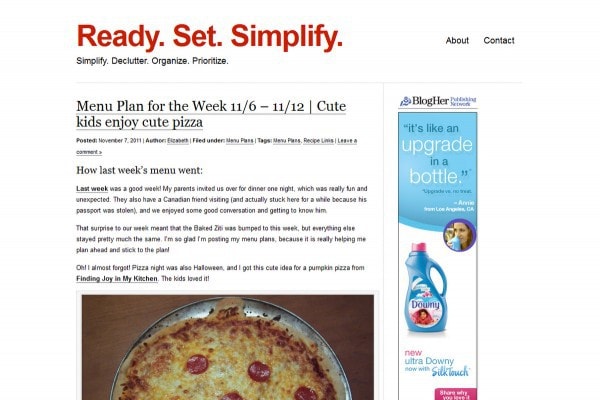 I recently helped my friend Elizabeth, of Ready, Set, Simplify., switch her blog from WordPress.com to a self-hosted blog. That all went smoothly, but her subscription service before was through WordPress.com and we were unable to export the list of email subscribers to her new subscription service.
So, if you were one of her subscribers, hop on over to her blog and get re-signed up! (the sign-up box is on the right-hand side…just scroll down a bit.)
And if you weren't one of her subscribers, you could always become one…Elizabeth posts about her journey to simplify and declutter her life (and sometimes, I show up on her blog!)
___________________________________
MoneySavingMom often posts a list of 10 goals for the week, and I thought I'd give that a try myself.
1. Paint new sample color on my living room wall
I already stopped at the store and picked up another sampler..I just need to roll it onto the wall!)
2. Finish editing photos from my shoot with the W family.
I want to get them done and delivered.
3. Finish money report for November.
I'm a little late getting it done because I was waiting to see what Mr. FG's new paycheck amount was after taxes.
4. Figure out a new budget with Mr. FG.
As I mentioned before, he got a raise with his promotion, and we need to sit down and talk about exactly where the extra money will go.
5. Update Quicken.
Yes. I am still not terribly fabulous at this.
6. Post review/giveaway for Cook's Illustrated's new cookbook.
I know you guys are anxious for me to get that done!
7. Get Sonia started with piano lessons.
The poor girl has been anxiously waiting for me to do this since September, and I have not made the time for it. So, I'm publicly committing to getting this done. Hold me to it!
8. Try having computer-less mornings.
I've been trying to get all my blog posts done and scheduled at night, so there's not really a reason for me to hop on in the morning. Plus, there are all sorts of reasons for me NOT to hop on (like, I have to cook dinner, exercise, shower, do family worship with Mr. FG and the kids among a zillion other things).
And there's always the fact that hopping on to check email can speedily turn into 15-20 minutes.
9. Make a blog plan for November.
I never stick to these entirely, but having a month's worth of ideas planned out does help to make blogging easier.
10. Figure out a new time for Bible reading.
I used to do this early in the morning, but since our schedule has changed, that's not working so well. I'm still getting prayer time in (I do that while I go for a walk in the mornings) but I want to work Bible reading back in too. I think maybe I'll do that at night before Mr. FG comes home or something.
Next week, I'll let you know how things went with my goals.

____________________________________
Today's 365 post: Stick Men
Joshua's 365 post: An Orchestra Trio