Long-time readers may remember that we'd usually taken our kids on a week-long trip of their choosing when they were 16.
Sonia wanted to go to Prince Edward Island with me when she turned 16, but unfortunately, the pandemic happened. And Canada was closed.
The next year, Prince Edward Island still wasn't open.
And then last year, life was all in upheaval due to me leaving my marriage.
So, the budgeted trip money has been sitting there all this time, unused.
Anyway…eventually Sonia decided she'd actually prefer to go to the beach with me, because she wanted to do surfing lessons.
And now, at the age of 19, Sonia finally got her long-awaited 16th birthday trip.
And Zoe will get hers next year, when she's 18.
Better late than never, right??
So, we've been at the Outer Banks of North Carolina this week.
And Zoe's been bonding with Miss Chiquita at home. 😉
What I Spent
I'm sure I spent more than usual, but I'm not going to calculate it out. I did take a trip to Aldi the night before we left, to buy some supplies for our trip.
I knew Aldi would be cheaper than any store here on the Outer Banks!
And then when we got here, we visited the local Food Lion to buy the rest of our groceries.
It hasn't been as cheap a food week as I have at home, but I did do a really good job of keeping our food costs down by cooking every night. 🙂
And we've been eating simple breakfasts and lunches here too. Eating in is cheaper, but it also makes it way easier to work around Sonia's allergies!
What We Ate
I told Sonia that I was gonna have to dust off my allergy-friendly cooking skills; since Lisey and Zoe aren't dairy-sensitive, I have gotten used to being a profligate dairy-user in my cooking. 😉
Saturday
Our first night here; I made BLTs, and we had some fruit on the side.
Sunday
I made chicken katsu, which is pretty much Sonia's favorite thing ever to eat. We had that over rice, with a fruit salad.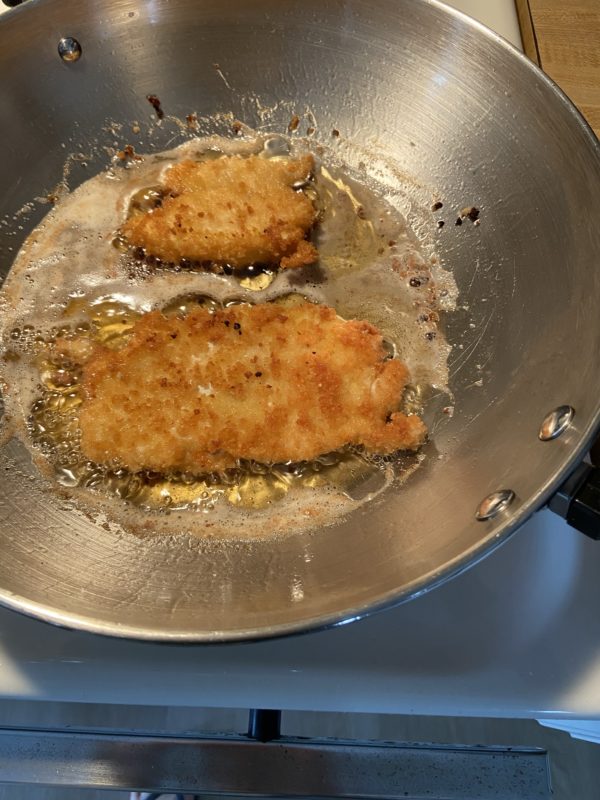 This kitchen had no mallet to flatten the chicken with so, I improvised.
I ate the last of the Cheez-its that I'd brought, turned the bag inside out, put the chicken inside the bag, and used a can of tomatoes to pound the chicken.
I prefer my mallet at home, but this worked fine in a pinch. 🙂
Monday
We had skillet baked ziti, which was a bit of a challenge because all of the skillets here had plastic handles that didn't seem oven-safe.
So I made the recipe mostly in a skillet and then I transferred it to a cake pan for the baking part.
Cooking in a rental kitchen is ALWAYS an adventure. 😉
(To make this Sonia-friendly, I left out the mozzarella, but I did use the Parmesan, which doesn't bother her.)
Oh, and check this out: the oven here has no window and no interior light either. I was kinda worried I was going to burn the ziti!
Tuesday
Shrimp is a thing Sonia is not allergic to, soooo, I steamed some shrimp, which we dipped in cocktail sauce.
On the side, we had some garlic breadsticks (from the freezer section), and a salad.
When I went to steam the shrimp, I realized this kitchen had nothing that could work as a steamer. Hmm.
I went to the local Dollar Tree and found a little strainer that worked; I did have to steam our shrimp in two batches due to the small size, but hey, at least it worked!
Wednesday
I made pulled chicken sandwiches, which we ate on brioche buns that I'd brought along from Aldi. On the side we had a salad and some fruit.
This meal required no kitchen-equipment gymnastics. 😉
Thursday
We got a seafood boil from a local seafood market; they sell it to you in a big metal stove-top safe steamer pot, and you take it to your rental and steam it there!
Friday
Last day here!
We have plenty of leftover shrimp and potatoes from the seafood boil, so I think we will eat the shrimp cold with cocktail sauce, and I'll probably brown the potatoes in a skillet on the stovetop.
And on the side we will have whatever produce in our fridge that needs to be used up before we drive home.
What did you have for dinner this week?