Thanks to Blinkbuggy for sponsoring this giveaway!

As you all know, I'm a big fan of photos. And I'm also a big fan of making photos accessible.
Scrapbooks, photobooks, slideshows…anything that's more usable than a shoebox full of photos (or the modern digital equivalent of a shoebox of photos!)
I'm fairly decent at getting my SLR photos into photobooks, but my phone photos are a little more neglected.
(What can I say? I'm a smartphone newb, as I've had mine only a year or so.)
So, when Blinkbuggy emailed me to see if I'd like to try their service, I realized this could solve a few of my problems, and I downloaded the app.
Blinkbuggy is free and it's basically a memory-book-on-the-go app. You can capture photos, of course, but you can also jot down milestones, quotes from your kids or little stories that you want to remember.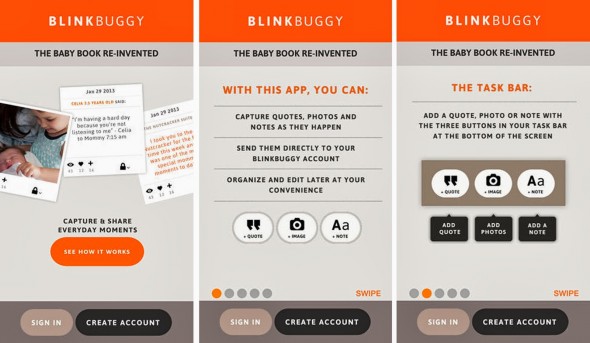 The idea of capturing quotes as they happen is especially appealing to me, and I really wish I'd had this when my kids were littler. You know how they say so many cute things and you're sure you'll never forget them?
Well, um, you do.
So, write them down when they happen!
Since the Blinkbuggy app is on your phone and your phone is probably not ever super far away from you, it's really easy to do it right away (which is much better than trying to remember later).
Blinkbuggy is probably most fabulous if you have babies/toddlers at home, but if your kids are a little older like mine, I think it can still be useful.
I've started pulling memory-worthy photos off of my phone and adding them into my Blinkbuggy feed so that I can make a photo book once I've got enough of 'em.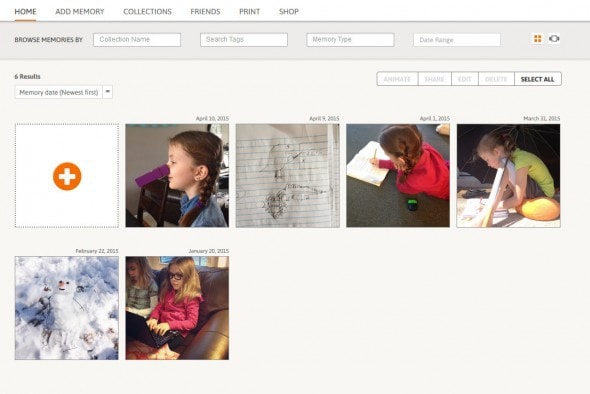 (The clothespin photo is from today. Zoe was trying to cope with the smell of Brussels sprouts.
)
And though my kids don't say quite as many adorable things these days, I'm still gonna try to record some quotes from them to add to my feed as well.
Blinkbuggy Books
The Blinkbuggy app is totally free to use (until you need more than 10GB of storage), but you have the option to put your memories into a physical book if you'd like.
You can design the album (which is 9.25 inches by 7.4 inches) yourself, or do it the fast way and have Blinkbuggy autofill it for you (no extra charge).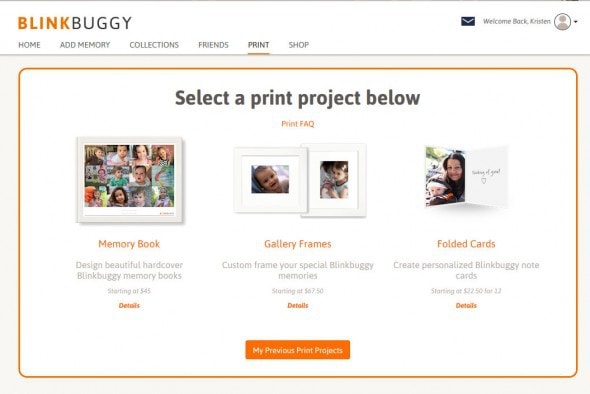 I haven't got enough photos in my feed yet to fill a book, but I started making a book and I'd say that even if you design it yourself, it's easy and intuitive task.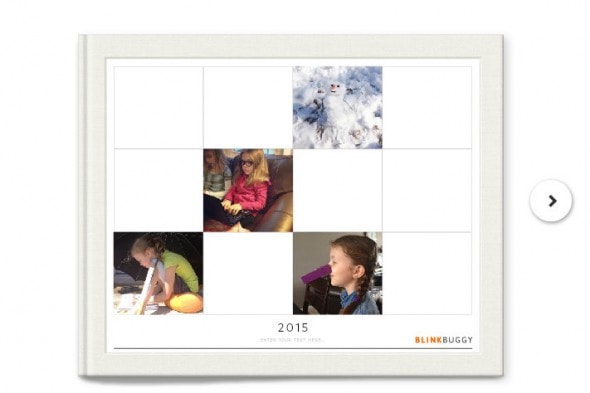 Because I haven't ordered my book yet, I can't give you an opinion about the print quality and such. However, the books are made by Milk Books, a reputable photo book maker, so I'm inclined to think that they're gonna be good.
I promise I'll do an update once I buy my book.
Because heaven knows I have opinions about photo books.
Blinkbuggy Videos
Blinkbuggy is adding a brand new feature this summer: videos!
Once a week, Blingbuggy will remind you to take a video of your child (brilliant! You don't have to remember yourself.), and Blinkbuggy will edit your videos into a single video by pulling the first three second of the video, making a time-lapse kind of thing.
Think of the fun possibilities especially for those of you with really little kids! They change SO much in a year, so if you started doing the videos now, you'd have a really neat collection in a year.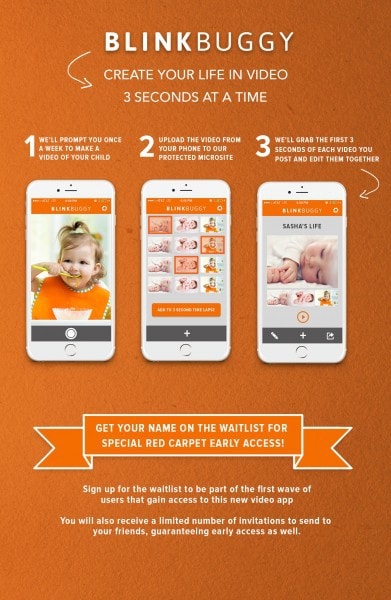 The video service will be available to the public this summer, but if you sign up for early access using the form below, you'll get video access in early May instead.
Plus, signing up will enter you into today's giveaway. Speaking of which…
What I'm Giving Away
Blinkbuggy is kindly offering a free photo book to one of you! This is a $45 value, and if you win, it's yours for free!
This offer is not limited to the continental U.S., so, yay for all of you international readers.
To enter:
1) Sign up to get early access to Blinkbuggy's video service, using the form below.
2) Leave a comment letting us know you signed up.
And that's it!
NO PURCHASE NECESSARY. Void where prohibited. Chances of winning depend on the number of entrants. Blinkbuggy kindly sponsored this post and provided the giveaway prize. All opinions are my own.