(a third title option: "Why my washing machine agitator is two different colors")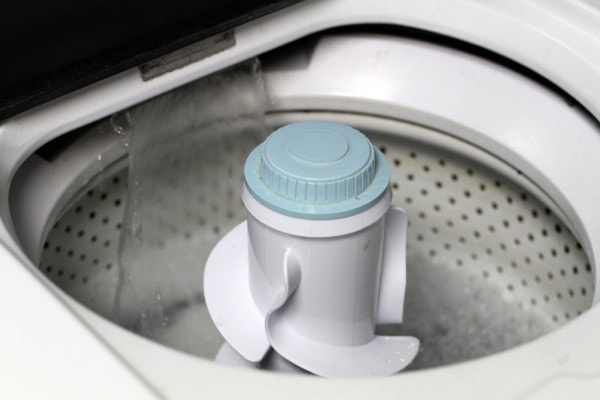 If you asked my husband which of us is more frugal, he would, without hesitation, name me.
And it is true that I am far more likely to obsess about expenses and savings plans and waste.
But in one way, Mr. FG is exceedingly more financially wise than I am. When it comes to the small things, I have him beat, but when it comes to larger expenditures, he most definitely has me beat.
For example, I can manage to get cereal for almost nothing, I can feed us three meals a day for a few dollars, and I keep the six of us clothed on way less than $50/month, but I am fairly useless when it comes to things like buying houses or cars or appliances.
For some reason, when the purchase is really large, I can sort of get caught up in the moment and lose some of my financial common sense. I'll negotiate the price of a $5 item at Goodwill, but it will not occur to me to argue over a $500 charge when we're buying a house. I've mended a shirt because I wasn't willing to pay $8 for a new one, but I was willing to accept a low-ball check from the insurance company when my car got totalled.
My lack of sense with large purchases is pretty deplorable, that's for sure. Thankfully, my husband is far more rational when we're dealing with large amounts of money, and I'm sure that he's saved us a pretty penny over the years.
Want a recent example? My older-model washing machine has been having a problem with the agitator. Basically, the dogs that hold the upper cam in place had broken off, so only the bottom portion of the agitator was actually…agitating.
After a cursory but frustrating search online for the replacement parts, I was ready to throw in the towel and just go buy a new washing machine (I know…that is pathetic.) I even logged onto Consumer Reports and started researching washing machines.
Fortunately, my husband is a little more persevering than I am when it comes to this kind of stuff, and he managed to find the information we needed. We ordered a dog kit and cam for about $30 from PartSelect, and much to my surprise, the package showed up the next day (I don't have any relationship with PartSelect, but based on this experience, I highly recommend them!).
Armed with the package directions (I'm better at reading directions than Mr. FG is, so I usually read the directions and he does the work!), we disassembled the old agitator, cleaned it all out, and installed the new parts. I think it took maybe half an hour, tops.
Out with the old…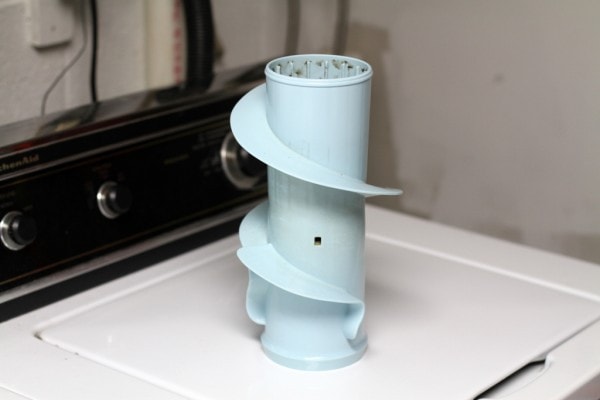 in with the new!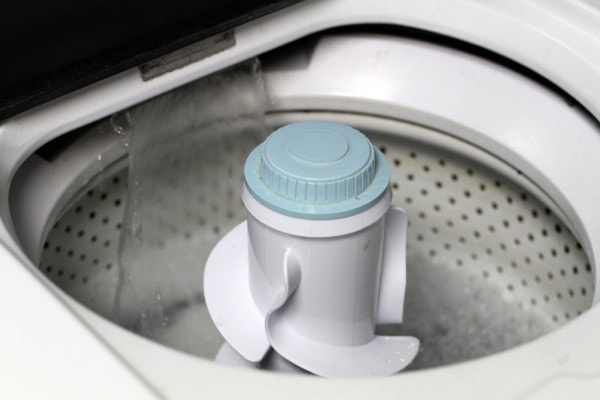 Unfortunately, the new piece is white instead of blue, so now my washing machine agitator is blue on the bottom, white in the middle, and blue on top.
But, I don't really care. My washing machine works properly again, and my goodness! A $30 expenditure for parts is much better than a $500+ expenditure for a new washing machine.
It's a really, really good thing my husband is around to save me from myself in these sorts of situations because without him, my laundry room would probably be sporting a new washing machine right about now.
And it's a good thing for him that I'm around, because without me, his money would probably trickle away due to small expenses.
I think we make a good pair. 😉