Don't worry…it's not because I'm overly stressed. It's a result of Glad's #SAVEITSUNDAY program.
Remember how I told you that Glad put together a great page with tips for storing the most commonly wasted foods?
Well, one tip really caught my eye.
I like to buy my broccoli without packaging if possible, but the problem is that the broccoli doesn't keep too well without a plastic bag.
So, when I read that you can poke holes in a zipper bag to make a breathable broccoli bag, I was all over it.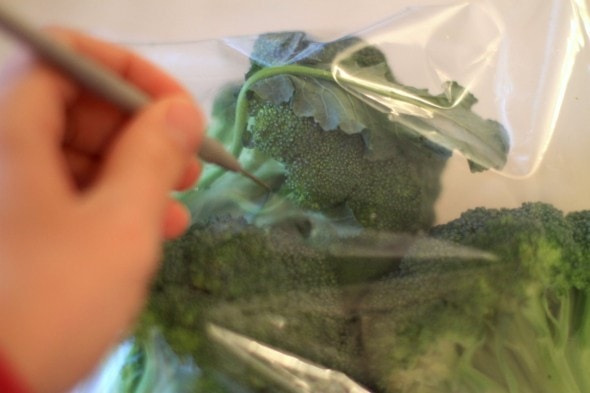 I should be able to wash and reuse the bag multiple times, which means I can buy my broccoli heads loose and store them in a very low-waste way.
Yay!!!
In other food storage news, my fresh basil is hanging out on the kitchen counter right now (Glad is right when they say not to store it in the fridge…the leaves will go black.) Room temperature is best.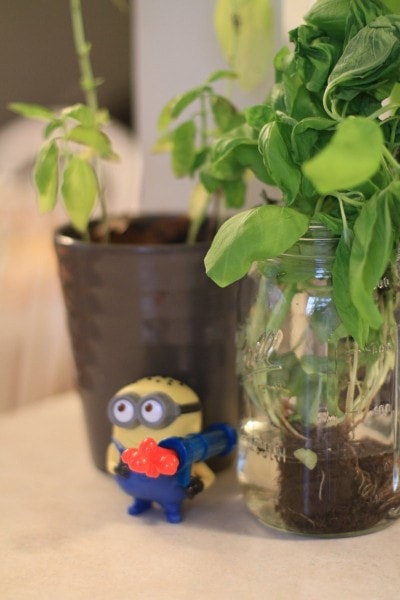 On the fruit front, there are two storage ideas I'm going to try out and then report back on next month.
First?
Bananas.
I try to buy them as green as I possibly can, but darn it, it is always a guessing game…trying to figure out how many we'll eat and how fast they'll ripen.
However, I recently saw a trick on Instructables for slowing the ripening of bananas. Apparently, if you separate the bananas and wrap a small bit of Cling Wrap around the stem, the ripening process will be slowed significantly.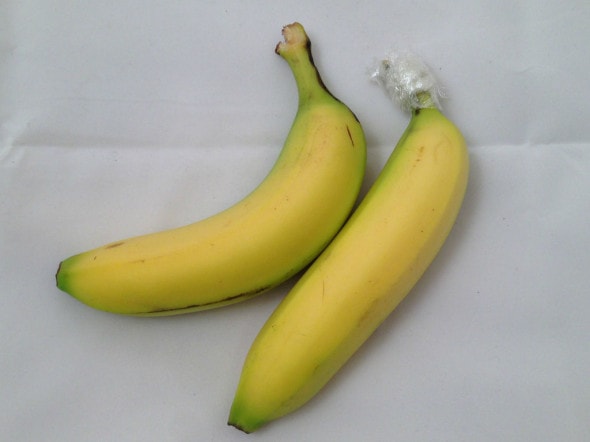 I won't need to do this with all the bananas we buy (we do eat a lot right away), but I'm definitely going to try it on a few to see if we can make some last through the end of the week.
I know another option is to put the bananas in the fridge, but I do really prefer them at room temperature. So, I hope this works!
And the other trick I'm going to try is one for berries, which are both expensive and very prone to going bad.
(Raspberries, anyone?)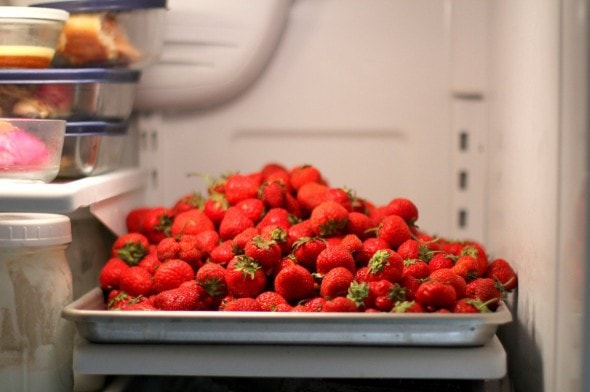 FYI, this a photo of berries we picked from a local farm in June. I don't buy this many berries out of season!
I've seen this trick floating around the web for the last year or so, but I've honestly never tried it.
(Mostly because I am usually too lazy to mess with it when I come home from the grocery store. But the whole point of #SAVEITSUNDAY is to take steps right away to carefully store food when you bring it home. So, I'm trying to change!)
Lifehacker says this tip comes from that favorite site of mine, Cook's Illustrated, and involves rinsing the berries with a mixture of water and vinegar. I'm really intrigued by this, so I'm going to fork over some money for out of season berries and give it a shot.
Next month, I'll let you know how these two methods worked out for me.
Have you tried any new food storage techniques lately? Do share, because heaven knows I always love to learn about more ways to prevent food waste.
__________________
By the way, I joined instagram recently, and I've been having fun sharing some of my anti-food waste adventures there. I'm easy to find…my username is thefrugalgirl.
If you haven't already, join me and over 7000 other people by taking the #SAVEITSUNDAY pledge. And take advantage of Glad's food protection pointers to help you keep your pledge.
I'm part of the blogger panel for #SAVEITSUNDAY, so this post is sponsored by Glad. However, my enthusiasm for the topic of food waste predates this program by over five years, and all text is mine.