This giveaway is now closed. Congrats to Marisa, the winner of the REI gift card!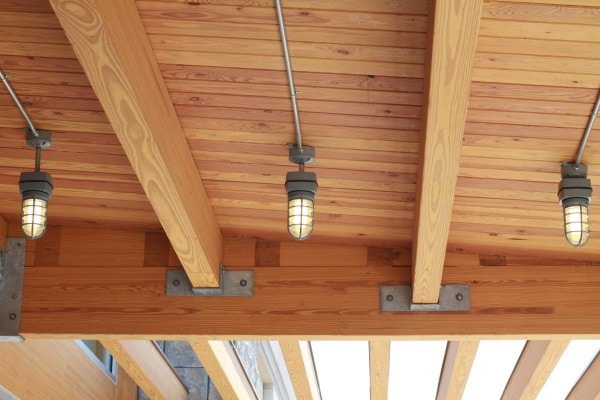 Armed with a gift card, we set out to tour the outdoorsy store and find something to help us get out and enjoy summer together.
REI is a company that sells all manner of gear for outdoor activities…hiking, biking, camping, canoeing, and so on. They offer a 100% satisfaction guarantee on their products, and each year, through donations and volunteer efforts, they help to clean up the environment and conserve natural resources (this makes Kristen happy!).
I've shopped from REI's catalog before, but I'd never actually been in a store, so we had a guide named Heather to help us figure out what we wanted to buy. She was so helpful and super nice to our kids. Yay Heather!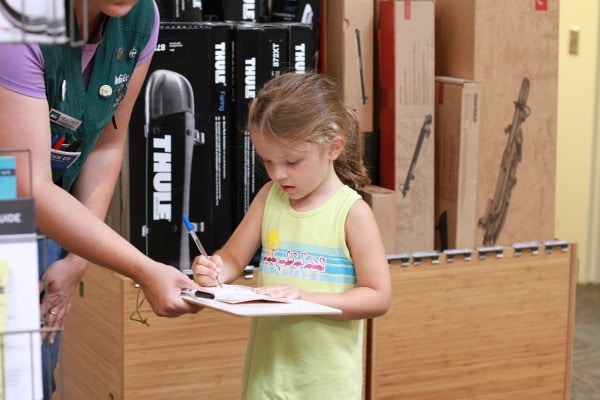 The two main things we were considering as purchases were a bike rack or a tent. Heather wasn't a bike rack expert, so she found another employee to help us out, and help us out he did!
Owen asked questions to find out what our needs were, helped us find out what racks would fit on our cars, and thoroughly explained the different features of all the racks. I was very impressed with how knowledgeable and helpful he was…so different than the kind of help you typically get at a big box store.
Since the kids weren't uber interested in hearing about bike racks, Heather gave my kids a little Adventure Journal and took them on a scavenger hunt around the store.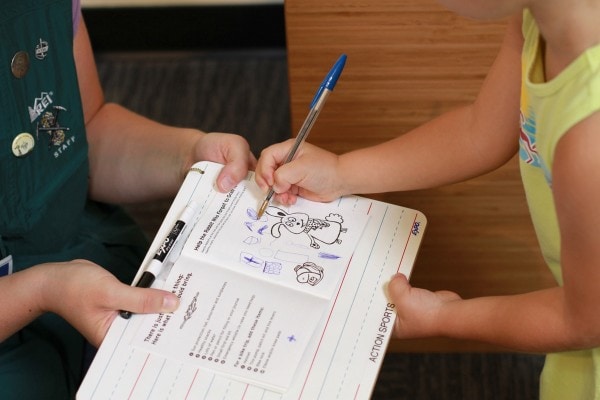 Then we got to my kids' favorite part…shopping for a tent. Heather is a camping expert, so she helped us find a tent that would fit all six of us, and she helped us set it up right there in the store so that we could see if it would work for us.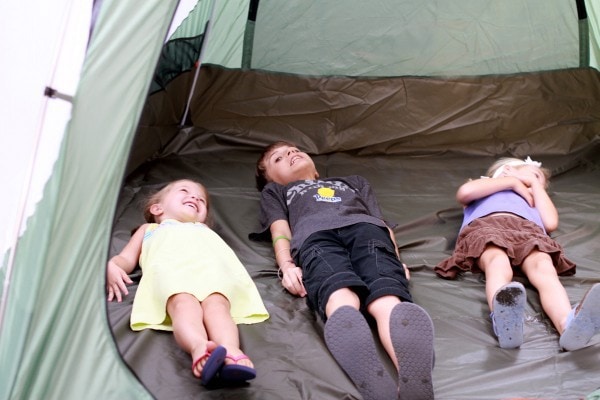 Sonia and Zoe were quite enamored with the zippered door and windows.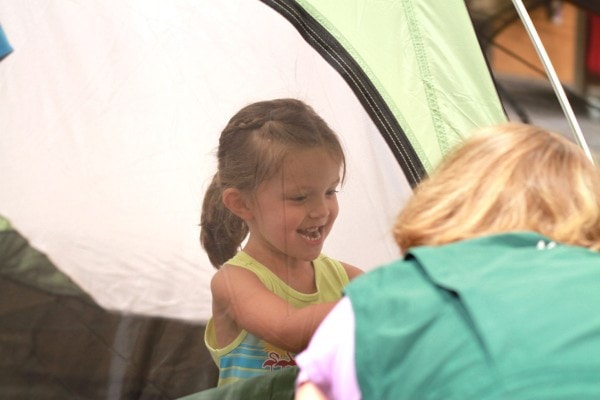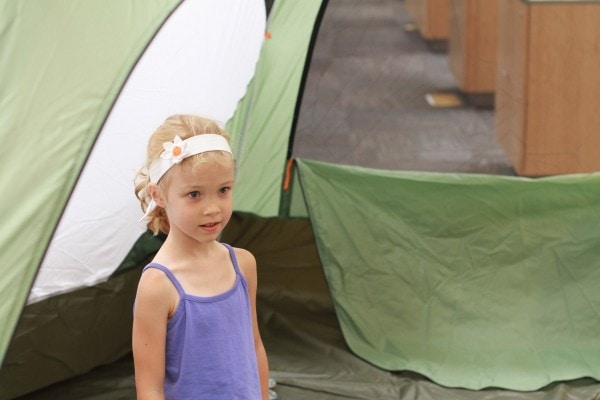 It was really handy to be able to set up the tent in the store…it's nice to be able to see if you can stand up inside the tent before you buy it, after all. 🙂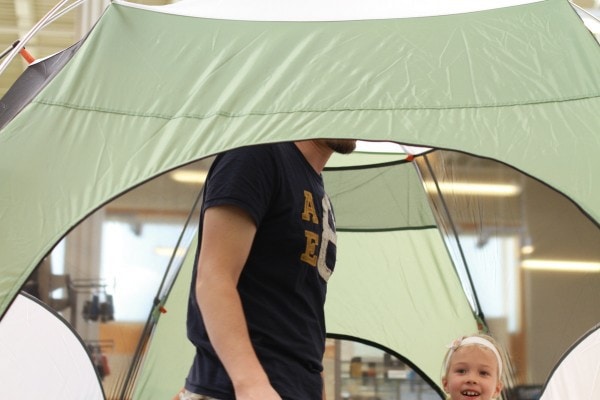 Our REI store also had a handy bench-like platform for trying out the sleeping bags.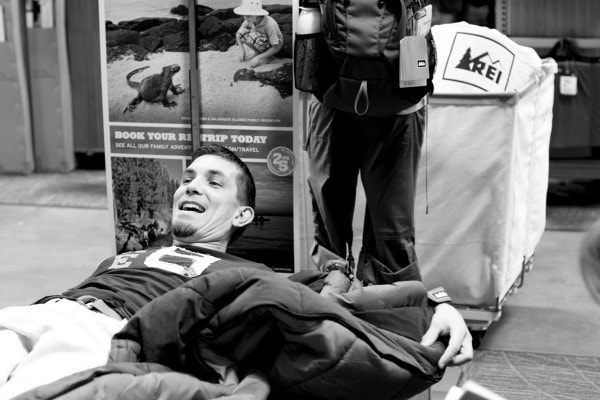 Joshua thought an air mattress greatly improved the sleeping bag experience. 😉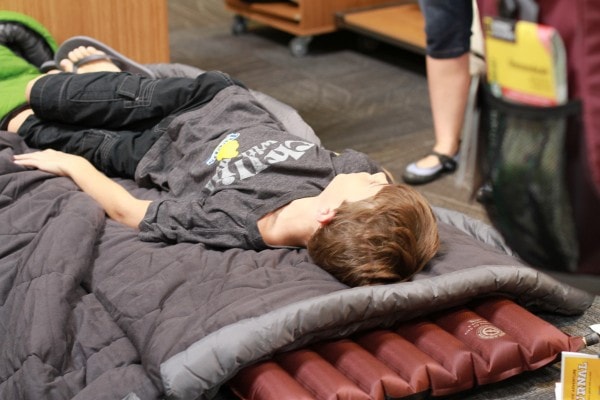 Hmm. Lisey really was with us, but I only caught her in one picture. Here you go: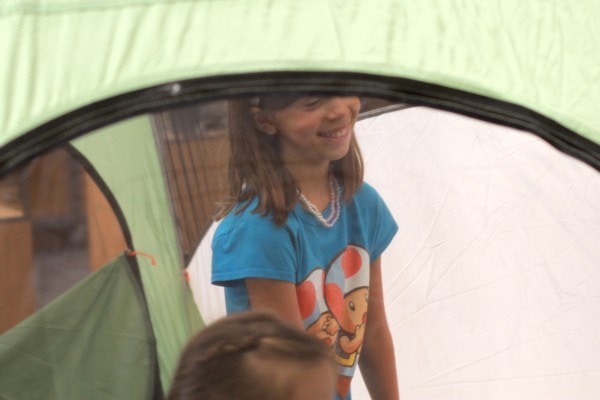 Mr. FG and I were both impressed with how informed the employees at REI are, and how willing they are to spend time explaining and showing products to customers.
In my experience, reliable, knowledgeable employees are kind of hard to find at a lot of stores…either there's no one on the floor, or if they are on the floor, they're in a hurry or just don't know enough to provide any kind of meaningful assistance.
Both Heather and Owen answered all of our questions, helped us find products that met our needs, and provided us with helpful papers, like a camping needs checklist, or a list with prices and features of bike racks.
Heather even was able to give us some good local places to camp and to go bike riding and she told us about the rental programs REI has for camping supplies…you can rent things like tents, campstoves, and the like. I thought this would be a great option for a family that's trying to decide if camping is their thing, and it would also be a good option for people who only want to camp once in a blue moon.
If you're an outdoorsy expert, you probably can just hop online and order your gear with nary a problem. But if you're like us and need help figuring out what to buy, I definitely recommend making a visit to an REI store. And if you're the type of person who likes to try something out before you buy it, REI is the place for you.
REI also offers classes at some of their stores in major metro areas (if you're in the DelMarVa area like me, the Washington DC area classes will be the most handy for you), so if you'd like to learn about cycling, outdoor photography, hiking, and other activities, check and see if they offer classes in your area.
Summer is almost over, but for most of us, there are still some weeks before the days shorten and the air gets cold. Don't let them slip by….get out with your family to enjoy the last bit of summer weather!
(we're going to do that shortly, and I'll talk about that in another post)
I have a $100 REI gift card to give away to one of you so that you too can buy some outdoor fun equipment.
Tell me what outdoor activity you pledge to do with your family this summer and how a $100 REI gift card will help you get there! Take the REI Outdoor Pledge and submit your comment to be entered.
Rules:
No duplicate comments.
You may receive (2) total entries by selecting from the following entry methods:
a) Leave a comment in response to the sweepstakes prompt on this post
b) Tweet about this promotion and leave the URL to that tweet in a comment on this post
c) Blog about this promotion and leave the URL to that post in a comment on this post
d) For those with no Twitter or blog, read the official rules to learn about an alternate form of entry.
This giveaway is open to US Residents age 18 or older and runs from 8/17 – 9/20/11.
Winners will be selected via random draw, and will be notified by e-mail.
You have 72 hours to get back to me, otherwise a new winner will be selected.
The Official Rules are available here.
Head to the BlogHer round-up page for more chances to win.