I posted this recipe in an Instagram Reel about a year ago, but that's not even faintly helpful for those of you who are not on Instagram. So, I'm giving this its own post so I can easily link to it in the future.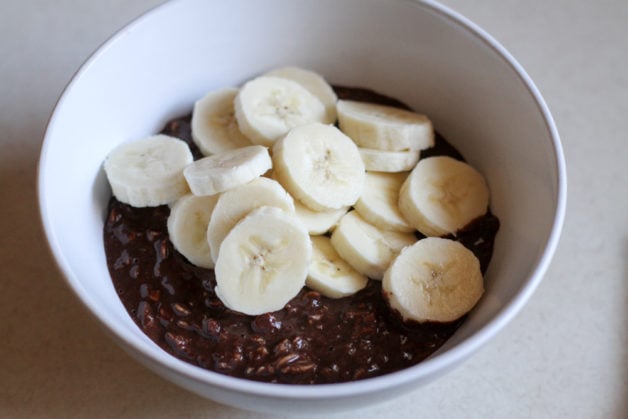 It's basically the same thing as the one-serving microwave oats I've posted before, just with a few tweaks.
First up, you mix 1/2 cup of old-fashioned oats, a pinch of salt, 1/2 tablespoon of sugar, and a tablespoon of cocoa powder together.
Use a bowl big enough to allow for the oats to bubble up while they cook; otherwise you will have boil-over.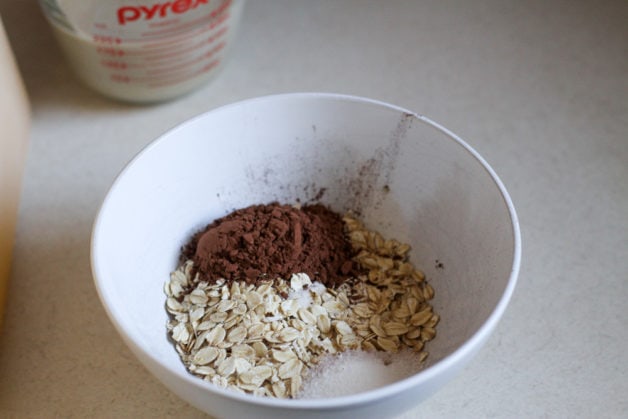 I always use dark chocolate cocoa powder because it has such a wonderfully rich chocolate flavor. I use dark chocolate cocoa powder in everything I possibly can, actually.
(It made my list of favorite flavor enhancers, after all!)
Then you'll need 3/4 cup of liquid; I like to use 1/2 cup milk and 1/4 cup of leftover coffee.
But you could use non-dairy milk, you could use water, you could use nothing but coffee…it's really up to you!
I also add a splash of imitation vanilla (it's SO much cheaper and you cannot tell the difference in an application like this).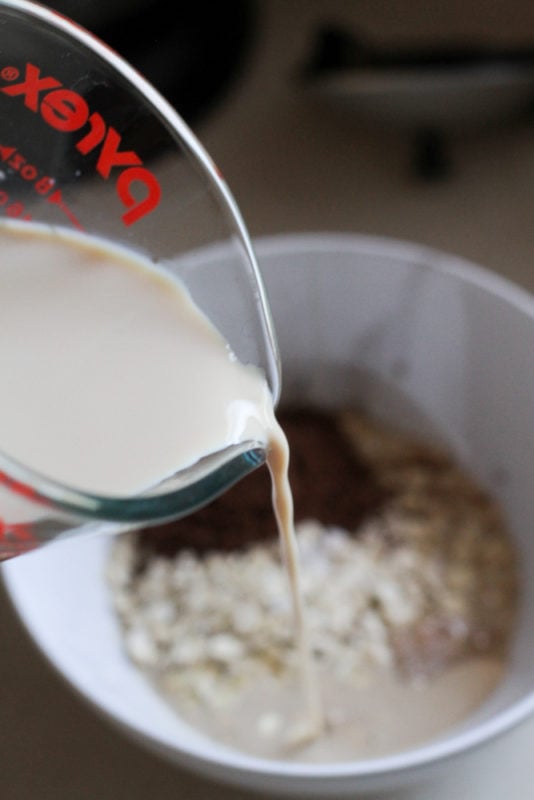 Once you add the liquid to the dry ingredients, whisk it all up. Incidentally: a good mini whisk will make your kitchen life 73% better.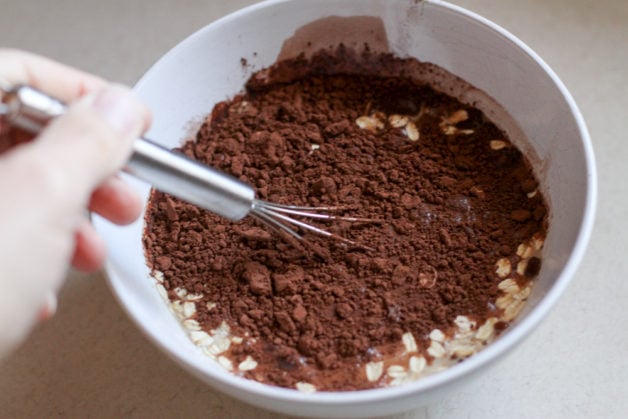 Then I microwave mine for 2 minutes, give it a stir, and microwave it for one more minute.
Microwaves vary like crazy, so you're gonna have to experiment with yours to figure out the sweet spot.
I like to top my oatmeal with bananas.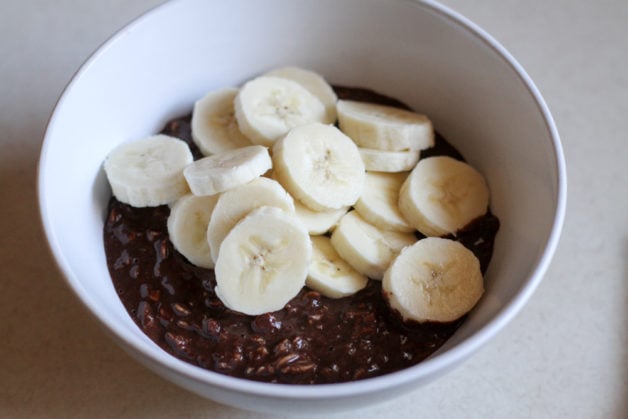 And heavy cream, if I have it. On this day I only had half and half. 😉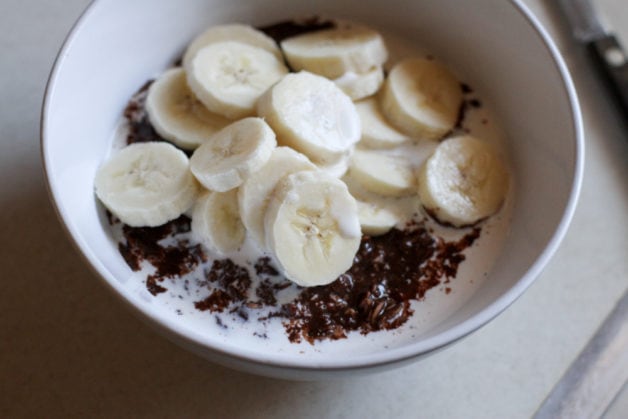 I just make these from memory, but if you'd like a printable, just scroll down!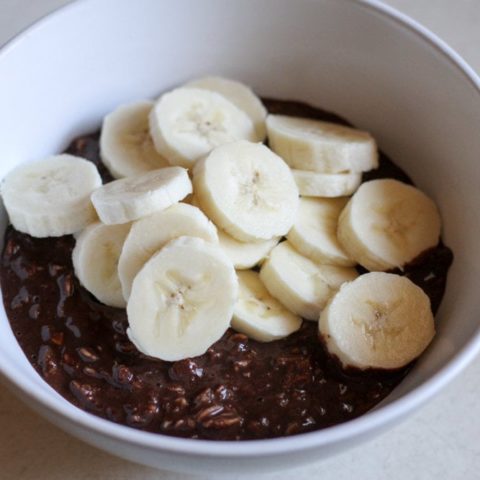 One-Serving Dark Chocolate Microwave Oatmeal
These oats take just a few minutes to throw together, and they can be made dairy-free!
Ingredients
1/2 cup old-fashioned rolled oats
1/8 teaspoon salt
1/2 tablespoon sugar (more or less as desired)
1 tablespoon cocoa powder
1/2 cup milk
1/4 cup cold coffee
1/4 teaspoon imitation vanilla
Instructions
Combine oats, salt, sugar, and cocoa powder in a microwave-safe bowl.
Combine milk, coffee, and vanilla, and whisk into the oats.
Microwave 2 minutes, stir, microwave one minute more, then serve, topped with fruit and cream.
Notes
The liquids are customizable; sub water or non-dairy milk for some or all of the coffee/milk in the recipe.
These oats are not super sweet; just add more sugar for a sweeter experience!
Make sure you use a bowl large enough to allow the oats to bubble up while cooking.
Microwaves vary, so adjust the cooking time as necessary.
Nutrition Information
Yield

1
Serving Size

1
Amount Per Serving
Calories

263
Total Fat

6g
Saturated Fat

2g
Trans Fat

0g
Unsaturated Fat

3g
Cholesterol

10mg
Sodium

315mg
Carbohydrates

43g
Fiber

5g
Sugar

13g
Protein

10g