Since we covered Christmas Eve yesterday, we'll stick with just Christmas Day photos today.
I've actually got quite a few pictures of me because Joshua snagged my camera. 😉 The kids and Mr. FG insisted that I open my gifts first, which was sweet.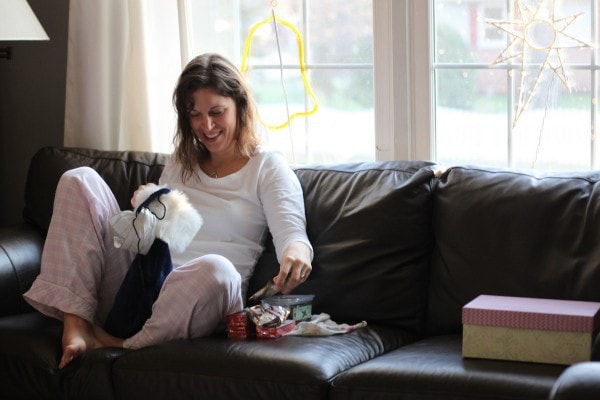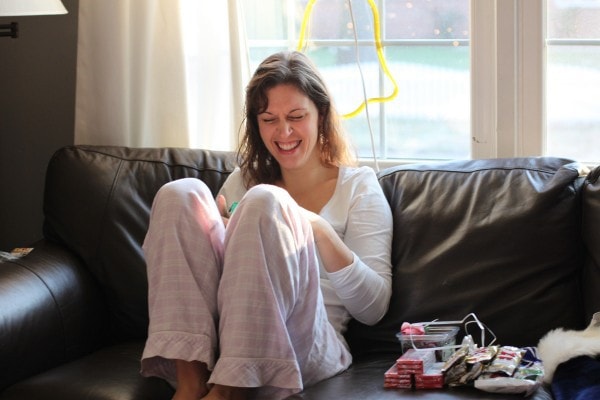 They kept making me close my eyes in between presents.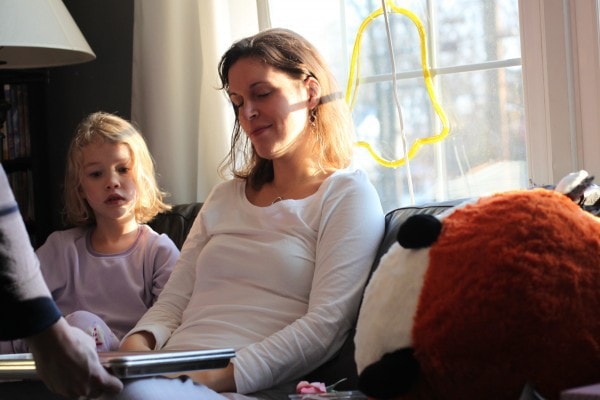 I was VERY pleased to get a nice pair of silver hoops.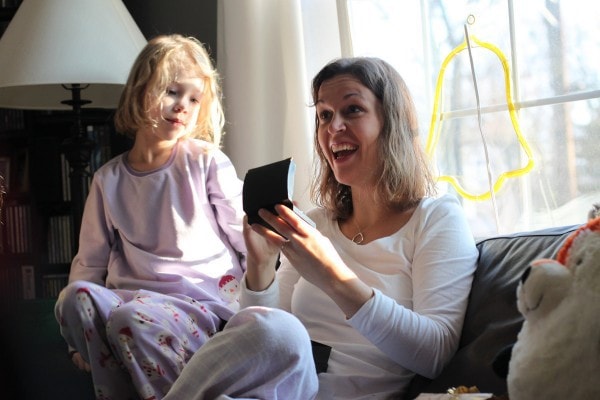 I'm laughing in this next one because Joshua and Lisey bought me a Boston Market gift card. When I was pregnant and sick, Boston Market mashed potatoes and gravy were one of the few things that appealed to me…they tasted SO good. Joshua and Lisey remembered me talking about that, and they thought I'd like some more.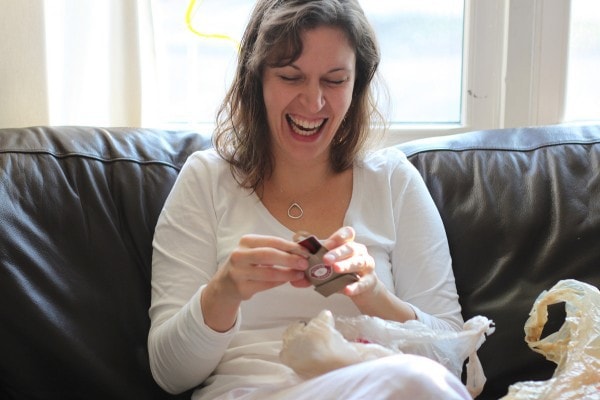 Hopefully they'll still taste as good now that I'm not pregnant!
Mr. FG and Sonia and Zoe bought me a very silly stuffed fox. He's actually really cute, but I have no pictures of him from the front.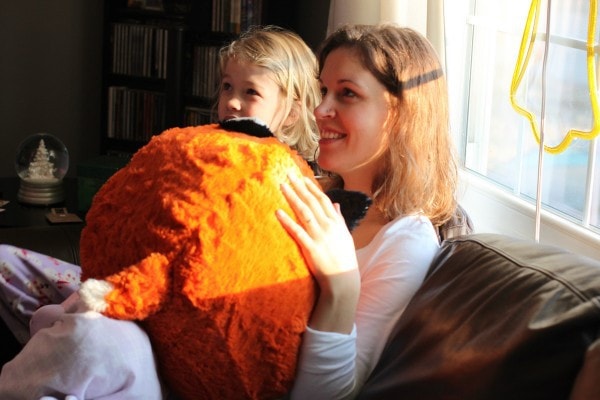 I am confused about something?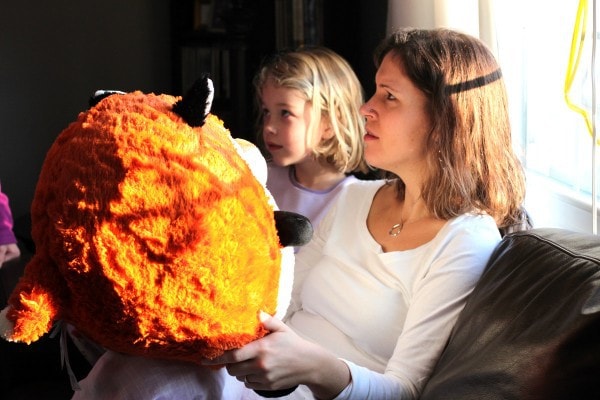 Ok, let's have some pictures of other people.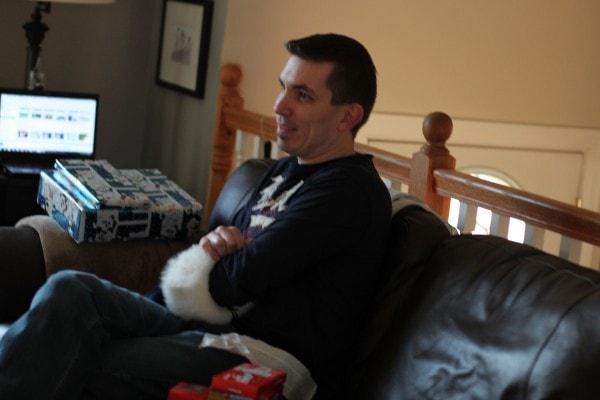 Lisey, opening an ocarina from Joshua.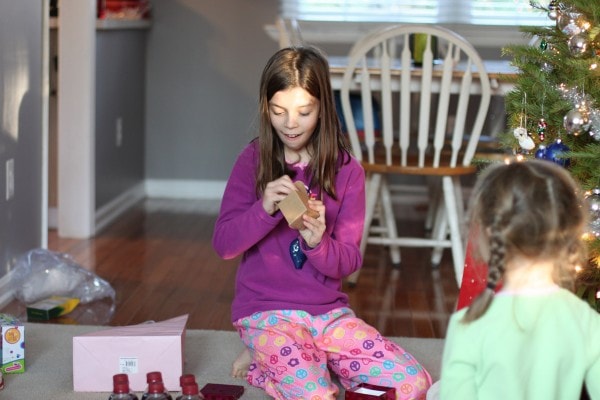 Zoe's been seriously hankering after a blue velour whale from Fluffyland, and she was seriously pleased to find one under the tree.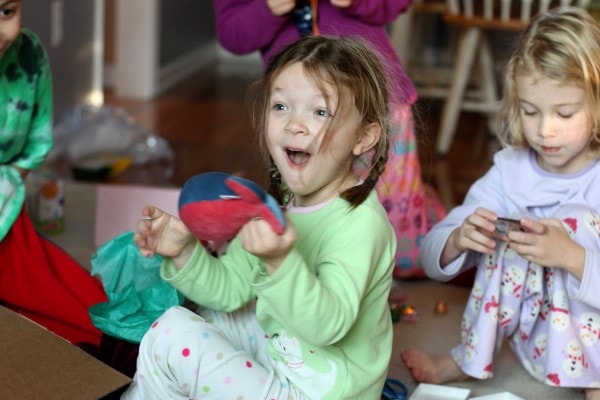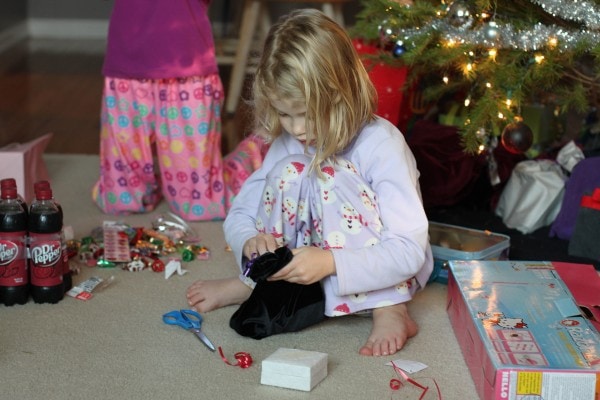 We got Lisey the VW bus shirt she'd been asking for (from Dandelion Dreams).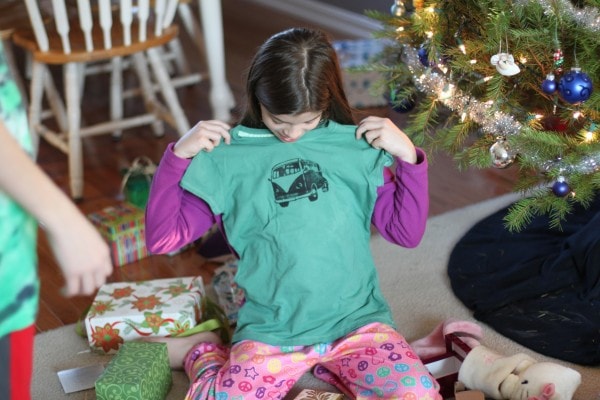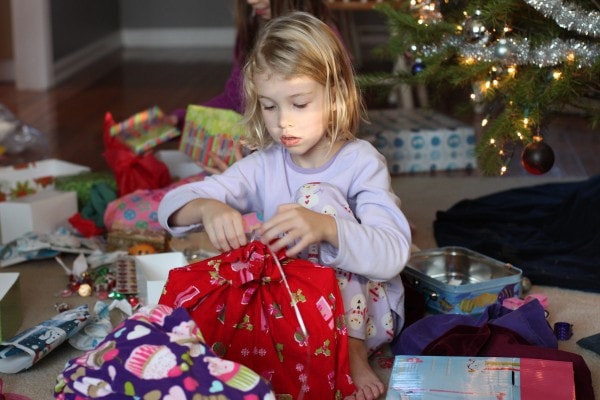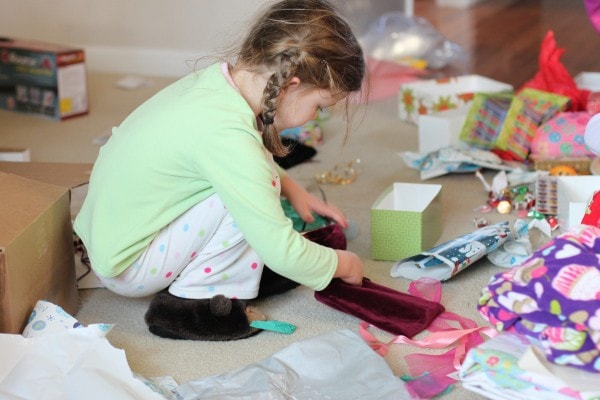 Let's see…I do have at least one of Joshua!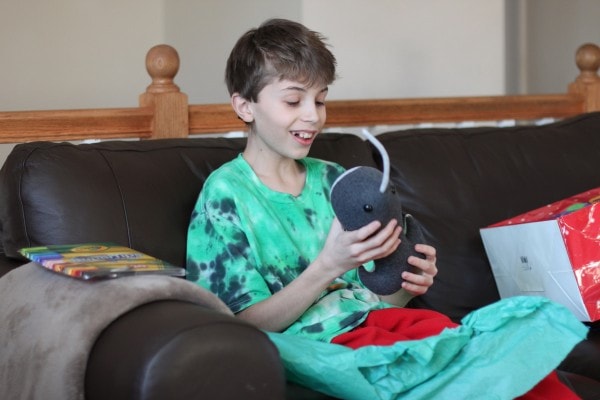 I was really encouraged as I watched my kids that morning. They were all so anxious to give the presents they'd picked out for each other…more anxious than they were to open their own packages.
Sonia walked around in a box because…um, I don't know why.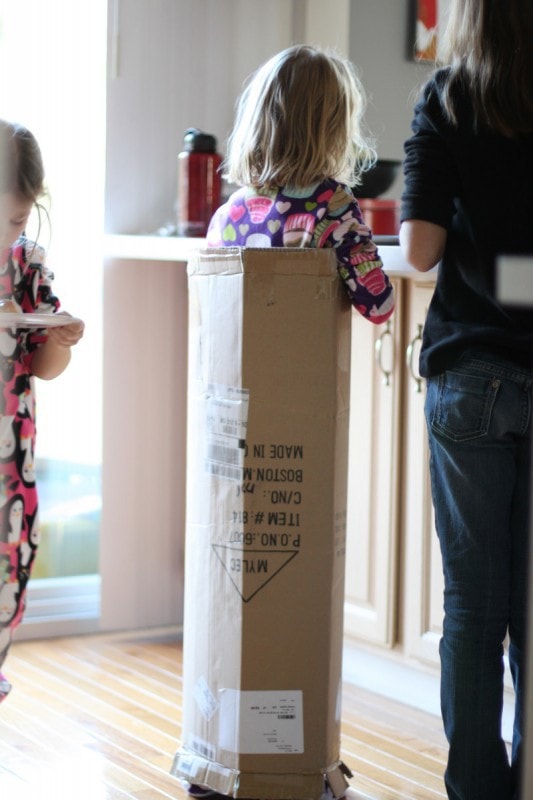 After eating some Caramel Monkey Bread,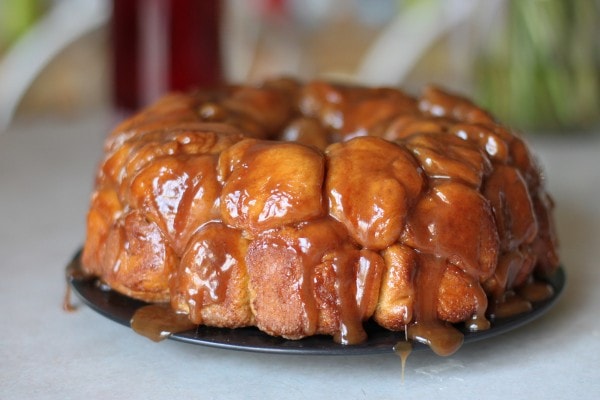 we headed off to church. Our church doesn't usually have a Christmas Day service except when Christmas happens to fall on a Sunday, so going to church on Christmas Day is a little bit strange for us!
I wore my new earrings, of course.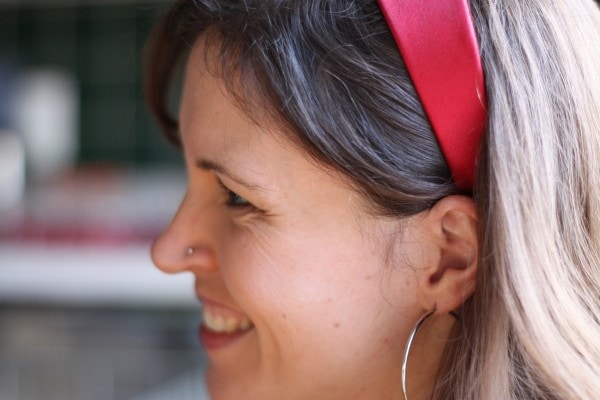 I had a pair of large hoops before, but they were the sort that start to look not-silver after a year or two (boo), so I'm really happy to have a pair of lightweight ones that will last for a long time.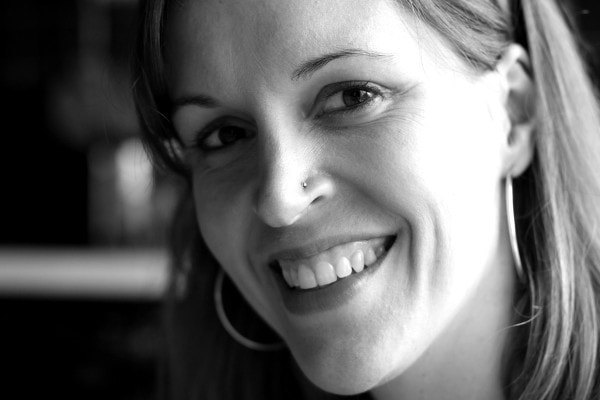 When we got home, I cleaned up the mess we'd made.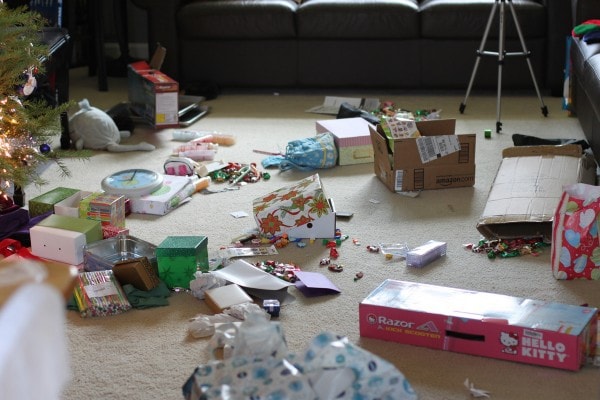 I didn't actually have to spend very much time in the kitchen because Mr. FG suggested we forgo a big meal so that I could have a break (and who am I to argue with that??).
We did set the table up all nice. We even used our china dishes for the very first time (which is pretty pathetic, given that this is our 15th Christmas together!)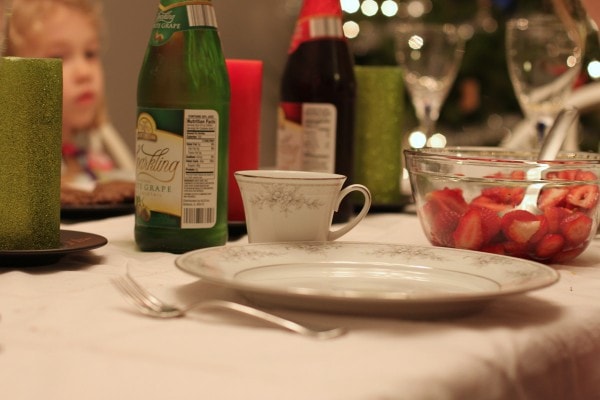 The older four of us used goblets for our sparkling juice.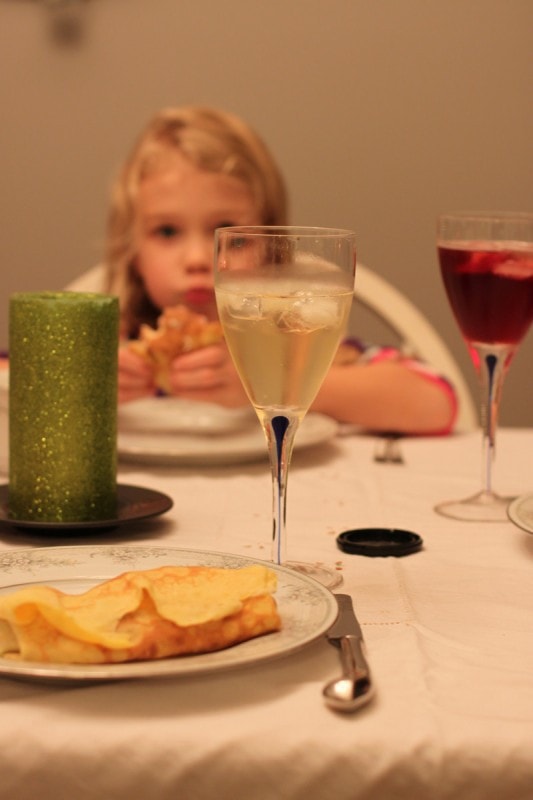 But Sonia and Zoe used teacups, because goblets are just begging to be spilled.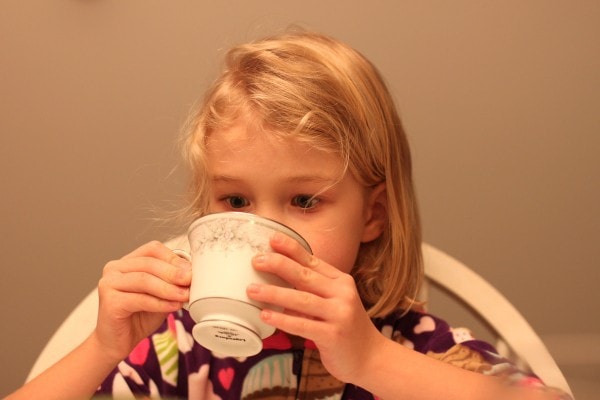 And Zoe drank regular juice because she hates carbonation.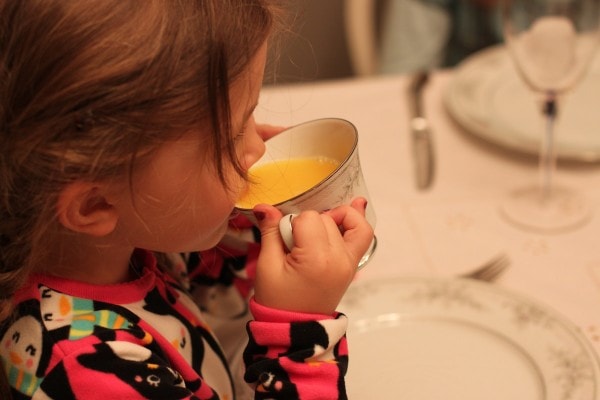 So, what did we eat? Crepes.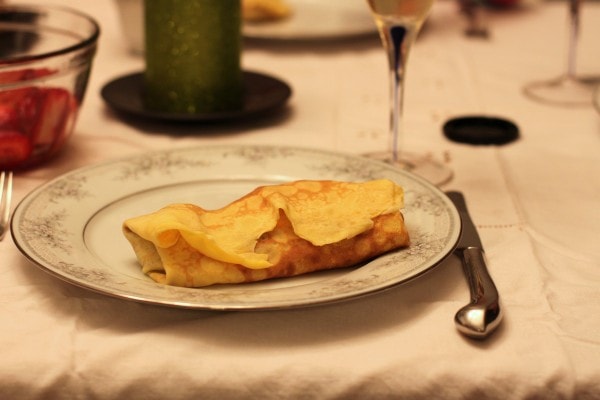 Traditional? Nope. But they were tasty and easy, and Mr. FG helped me make them. We had local sausage too so that our dinner wasn't an unadulterated carb-fest.
Zoe and Sonia did actually get dressed that day, but they liked their new footed pjs so much, they put them on before dinner.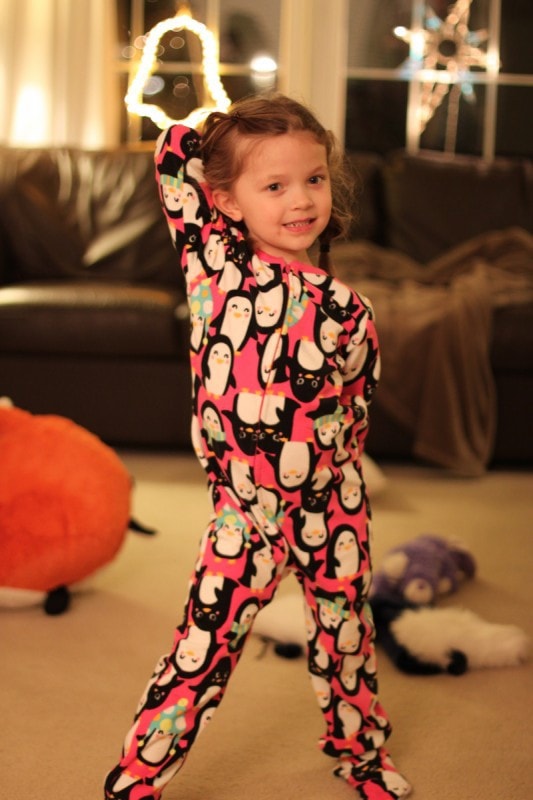 After dinner, the kids wrestled with Mr. FG.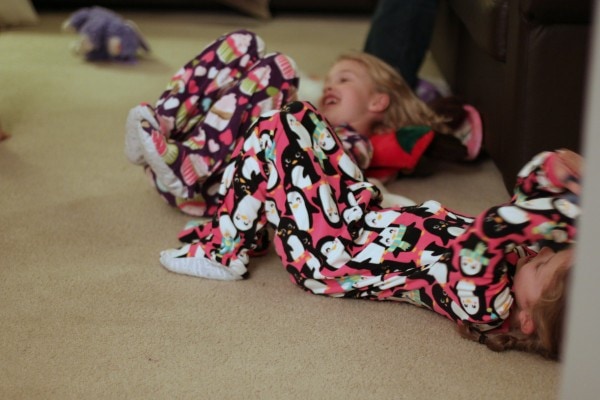 Actually, it started with Joshua and the girls and progressed from there.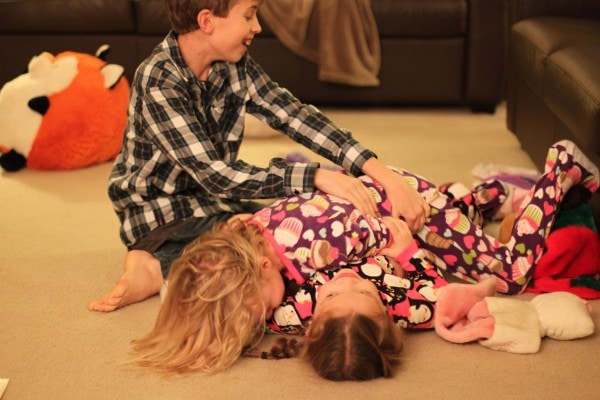 I love it.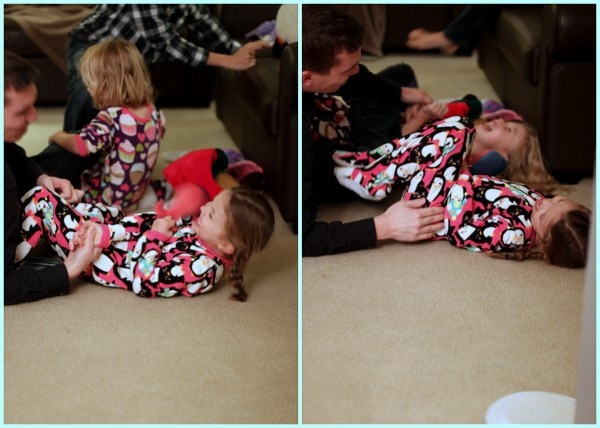 This picture makes me laugh.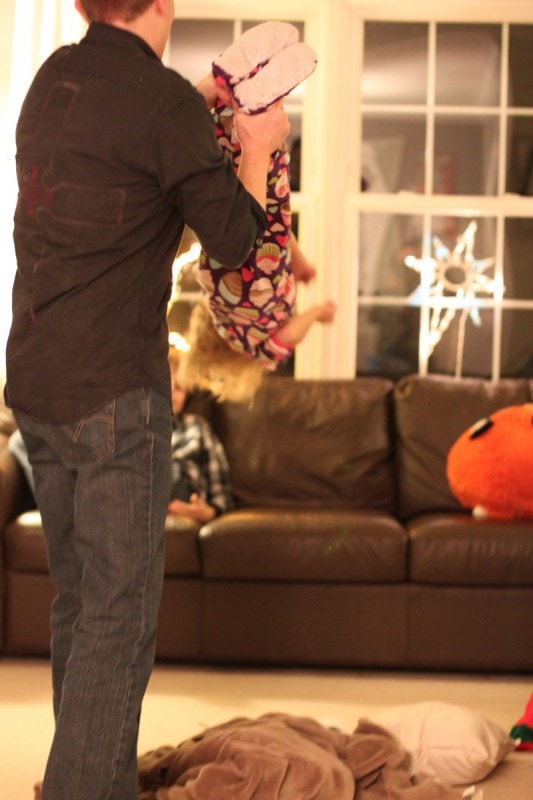 We did settle down so that Mr. FG could read the Christmas story to us (as per Sonia's request).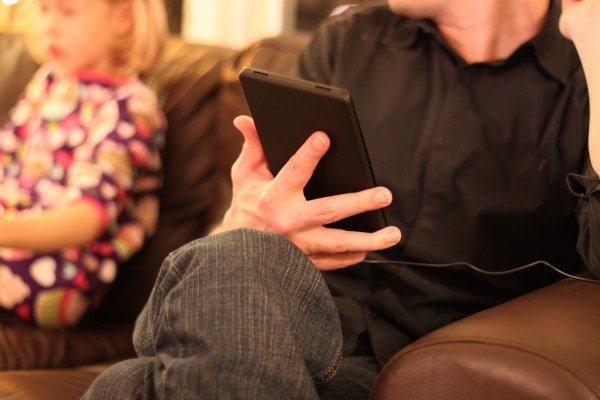 And that was the end of our Christmas Day. This is the second year in a row where we no extended family get-togethers have fallen on Christmas Day, and I must say, a quiet at-home Christmas is pretty lovely.
The gifts pictured in this post don't represent the entirety of what we gave/received…that list would be sort of boring for you. However, I do want to share the details about some of the presents I bought and made. But it'll have to be another post for another day.
And I promise there won't be nearly so many pictures of me in that post. 😉
___________________________
Today's 365 post: Two Babies in Purple
Joshua's 365 post: This is very unusual for us!