I have noticed that you post photos of your children on your blog. Did you struggle with the decision to do so? I am a fairly new blogger and have talked to other mothers who blog about the benefits and drawbacks of sharing photos of their children online — there seem to be a lot of strong opinions on this subject. Would you mind giving me your opinion?
-Anne
Nope, I actually didn't struggle with that at all, which would not be surprising to you if you knew me in real life. I tend to be pretty happy-go-lucky and not super-duper-uber safety conscious, a feature of mine that sometimes annoys my more safety-conscious husband.
But actually even he doesn't mind me posting pictures of our kids, so we're on the same page when it comes to this issue (yay!).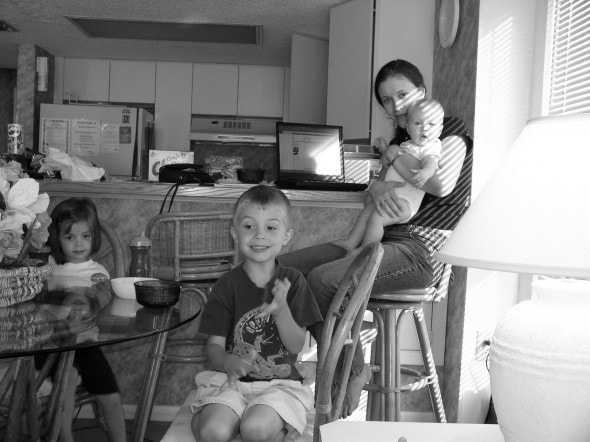 From what I gather, people are mostly concerned about posting pictures of their kids because they're worried their children will be abducted, they're worried about their children's privacy, or they're worried that their children's photos will be viewed by someone who has a perverted attraction to children.
Here's why I'm not concerned about those three things.
1. Abduction
I don't think that photos of my children will make someone want to abduct them, nor do I feel abduction is a serious danger in our everyday lives. Child abductions are actually quite rare (it's far more likely something awful will happen to my kids when I take them out in the car or take them swimming), and most are done by someone who already knows the child.
Plus, I keep a very close eye on my children…they're almost always with me or Mr. FG and when they're not, they're with someone we trust (we're pretty particular about who we will leave them with). It would be a task and a half to sneak away with one of them.
2. Privacy
I'm not remotely worried my children will feel that their privacy has been violated. They love to see pictures of themselves on my blogs, and it's not at all rare for one of them to suggest that I take a picture of them doing something so I can put it on my blog. Even Joshua, who hates to pose for pictures, likes it when I blog pictures of him not looking at the camera.
Of course, if any of them started to feel shy about it, I'd be respectful of their wishes.
3. I'm not sure what to call this one…inappropriate viewing?
Someone who has a perverted attraction to children won't get any more gratification from my pictures than from visiting a pool or beach or mall or park or zoo or any other public place where there are children (my children are never naked in my photos).
If a person wanted to be absolutely sure that their child was never in sight of someone who looks at children the wrong way, they'd have to never leave the house, and obviously that's not reasonable.
Of course, all of this is what works for me, and I would never encourage someone to do something that didn't feel comfortable. And naturally, if your spouse doesn't want to have pictures of the kids online, I would encourage you to be respectful of that (I think the more safety-conscious parent should win out).
I will say, though, that blog readers love to be able to see the people behind the blog. If I didn't post pictures of myself or my children, that would seriously change the nature of my blog, and I don't think it would be for the better.
So, just weigh that against your safety considerations, and figure out what's right for you. 🙂
________________________________________
Do you believe in natural family planning (instead of using birth control)?

-DJ26
Birth control is a highly controversial topic, so I'm a wee bit hesitant to go there. You all will be polite in the comments though, right?
Ok.
I am not opposed to birth control as a rule, and I do not personally believe that we are obligated to have as many children as we can possibly produce. I do think that the Bible teaches that children are a blessing, but I think a Christian husband and wife need to pray for wisdom about planning their family, taking into account things like finances, the mom's health, and parental emotional resources.
I don't feel comfortable using hormonal birth control or an IUD, and that pretty much leaves barrier methods and Natural Family Planning (NFP) as options. Taking Charge of Your Fertility is a great book on that topic…super helpful and informative, and I highly recommend it to anyone who wants to learn more about their cycle.
Of course, NFP requires a degree of discipline because a sloppily-recorded cycle isn't very helpful. And obviously, NFP isn't as fool-proof as hormonal or permanent birth control (I was super careful and still somehow managed to end up accidentally pregnant with Zoe. Her conception remains a total mystery to me!)
So, for someone who really, really cannot risk a pregnancy, I wouldn't recommend it, but for help in spacing children, I thought it was a really helpful tool. I managed to keep my very fertile self unpregnant for an impressively long time by charting.
Plus, it's super frugal*…you just need the book, a basal body temperature thermometer, and paper (though I know a lot of people record their cycles online, so paper isn't even necessary).
*assuming you're careful and don't end up pregnant. Having a baby is not a frugal thing. 😉 It's a good thing, but definitely not frugal.
_______________________________
Oy. I feel like today's topics were unusually heavy. I will try to produce something more fluffy tomorrow.
So, what are your thoughts on posting pictures of children online? And have you used NFP? Feel free to leave your thoughts in the comments.
Since today's topics could possibly get controversial, I'm just going to remind everyone to be polite and kind. You catch more flies with honey than with vinegar, and all that.