Thank you Upromise for sponsoring this post. While this was a sponsored opportunity from Upromise, all content and opinions expressed here are my own. And I've had my own Upromise account since 2001, so that's pretty darn legit.
Recently, I wrote about how we're planning to help our kids avoid/minimize college loans, and today, I wanted to share about Upromise, a free-to-join program that helps you add to your college savings while you grocery shop, shop online, travel, and more.
(I mentioned using Upromise in my last Five Frugal Things post, actually!)
I signed up with Upromise in 2001,when Joshua and Lisey were really small, so we've been with Upromise since the early days.
Back then, I mainly used it for the grocery rewards, but Upromise has quite the expanded program these days.
Before we get to that, you should know that money you earn at Upromise can be added to a 529 account, used to help pay down an eligible student loan, added to a savings account (including the new Upromise GoalSaver
account), or sent to you in a check.
So, Upromise is super flexible and it's useful even if you don't have kids because you can use it to help pay down your existing loans.
Alrighty! Let's talk about the ways to earn with Upromise.
Grocery Coupons
Upromise partners with a number of grocers to offer you rewards for buying certain products. You activate the offers before you go to the grocery store, and when you buy the qualifying product, the cash back amount is added to your Upromise account.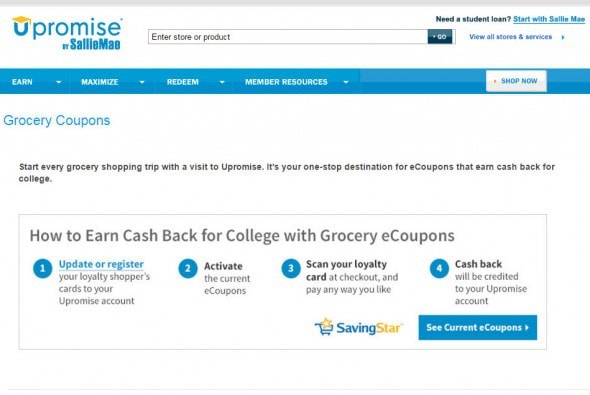 Because these are electronic coupons, you can combine them with other paper coupons and in-store sales, so if you're a couponer, this option is especially worth checking out.
Upromise Restaurants
Upromise partners with over 10,000 restaurants to give you 5% back when you eat out. Most of the participating restaurants are local eateries, not national chains, which is kind of lovely.
It's not just expensive restaurants either…in writing this post, I realized that one of our $20 date night Tex-Mex places participates. I've been missing out on rewards all this time. Whoops.
I'm definitely going to rectify that next time.
Online Shopping
Upromise has an online shopping portal where you can earn up to 5% cash back at 850+ online stores.
You click through to your favorite shopping sites through their portal and then get cashback in your Upromise account after you make a purchase.
(This is the feature I mentioned the other day in my Five Frugal Things post.)
Of course, I never recommend shopping just to get the cash back, but if you're buying an item you budgeted for anyway, you might as well get a few extra college dollars. It all adds up!
Upromise MasterCard
If you are like me and use a rewards credit card, adding a Upromise Rewards Credit card to your Upromise savings arsenal can be a smart choice.
The no-annual-fee Upromise credit card offers a base 1% rate, which is fairly standard.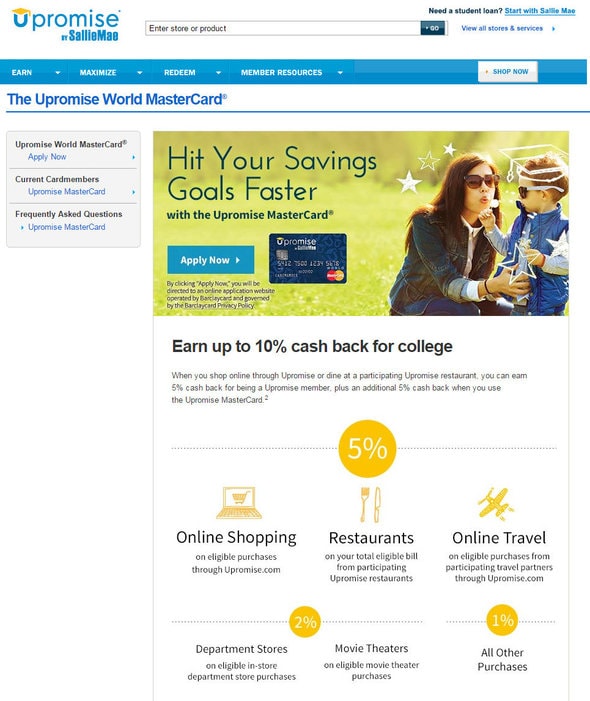 BUT.
If you do most of your shopping online, the cash back rate gets really good.
If you shop at a site through Upromise, you can get up to 5% cashback, PLUS another 5% cashback for using the Upromise credit card, which adds up to a 10% discount. Plus, you get 5% back at participating restaurants, on top of the 5% back that Upromise already gives you.
And the cashback you get is actual cash, not points. Yay for simplicity!
Of course, make sure you use the credit card only for purchases that are within your budget, and remember to pay it off completely every month so that your Upromise savings are contributing to your bottom line.
Other Earning Options
Upromise also offers cashback on travel booked thru their site. But for everyday, consistent earnings, I think the grocery coupons, restaurants, online shopping, and Upromise credit card are the most helpful options.
(However, if you're a globe-trotter, then by all means get some Upromise cashback on your traveling!)
That about wraps it up, I think!
Upromise has lots of quick and easy ways to add to your college savings, and most of the options require only a teensy bit of extra effort (registering a loyalty card or a credit card, for example.), so if you've got kids to put through college or loans of your own to pay off, sign up for your free account!
Every little bit helps, and every dollar you save now is a dollar that doesn't have to be put onto a student loan.
Oh! And right now, when you invite friends and family to join Upromise through the Upromise Tell-A-Friend
program, you can BOTH earn $20. That'll add up pretty speedily, so reach out to parents, grandparents, aunts, uncles, college students, and anyone else that could benefit from Upromise.
_______________________
Are any of you already members of Upromise? If you've got tips to share to maximize your savings, please do in the comments!