1. I got two free months of Panera's Unlimited Sip club
I noticed that they had sent me a limited-time offer in the app, and I took advantage of it!
For two months, I can get any hot or cold coffee or tea, plus fountain drinks for free.
(After that, it's $10.99/month, and I will likely cancel.)
Sometimes I like to go study somewhere other than my house, and this means I won't even need to buy a drink when I go do that for the next two months.
2. I made a batch of chicken broth
I had two sets of rotisserie chicken bones, so I used them to make a pot of chicken broth.
(Here's how I make my chicken broth.)
Not only is this super cheap (you get broth out of something you'd have thrown away), but I really do think homemade broth makes recipes taste better.
For instance, I think my Swedish meatball sauce is way better with homemade broth.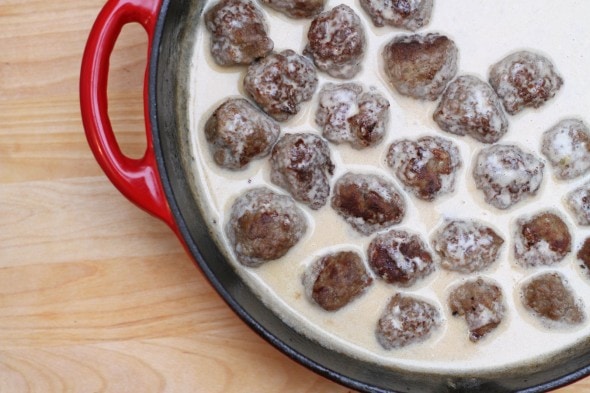 3. I opted for no blow dry when I got my hair cut
I think it has probably been about 6 months to a year since I got a haircut, and I was noticing that the ends were getting rather uneven-looking!
So, I booked a haircut and chose just the basic wash and cut. I don't usually like the way other people blow-dry and style my hair anyway, so there is literally no point in me paying for that part of the service.
Better to just drive home with a head of wet hair and then do it myself. 😉
4. I called about a $600 medical bill
I got a bill that seemed abnormally high so I checked the insurance website and didn't see it listed in the Explanation of Benefits column.
Hmm.
Soo, I called and apparently they had not run this one through the insurance at all!
That explains why I didn't see it listed in the EOBs.
I gave them the insurance info, they'll run it through, and then the bill should mostly disappear.
I've said it once and I will say it again (and again and again): always regard your medical bills with an air of skepticism.
If something seems wrong, it probably is! And it will almost always be wrong in a direction that does not favor you.
5. I used some slightly-old milk to make egg bread
In case you didn't know: when milk gets slightly sour, it's not delicious for drinking or eating with cold cereal, but it does work fine for things like baking bread or making chocolate pudding.
(Here's the chocolate pudding recipe I use.)
So, when I found myself with a neglected end-of-the-milk-gallon this week, I made a couple of loaves of egg bread, and then I froze the rest of the milk to use in some future baking.
And in case you're worried…it's not just me that thinks slightly sour milk is safe to cook/bake with. Here's a Heathline article about it. And another from NPR.
Your turn! What frugal things have you been up to?