1. I took in the waist of Zoe's pajama pants.
She's in that unfortunate stage where the girls' sizes seem to get really wide at the waist (is it just me, or is this definitely a thing that happens past size 10 or so??)
But, she's not tall enough for junior's sizes yet, and that's when the waistbands really seem to come in.
So, we have waistband issues on pants that don't come with adjusters, like these pajama pants, which we bought because they have dogs on them and Zoe loves dogs!
I had her try them on, and then I pinned and sewed two little tucks to keep her pants up.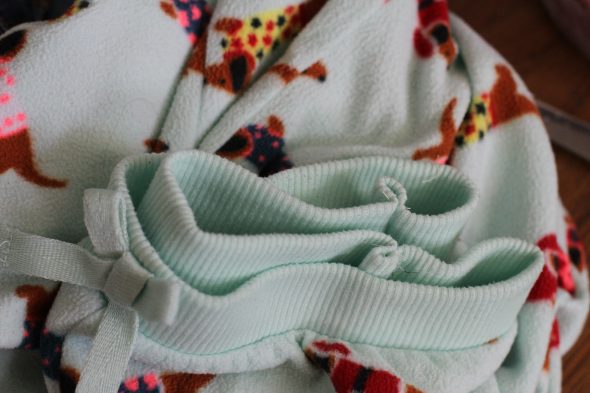 Luckily, this doesn't have to be a beautiful fix! It just needs to keep her pants from sliding down.
(I got around to this project because Zoe put it on the "I need Mom to…" list.)
2. I mended a towel.
Sometimes I wonder if kitchen towels are made with a special kind of thread that dissolves in laundry detergent.
Because man, mine always seem to be coming apart.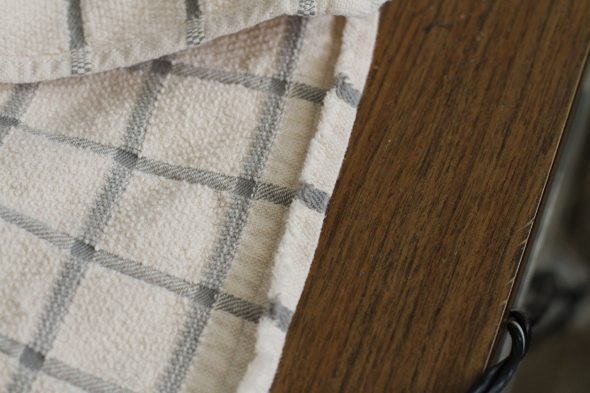 Luckily, this is a very easy fix, and since I already had the machine out for Zoe's pajama pants, it took only maybe a minute extra to sew this up.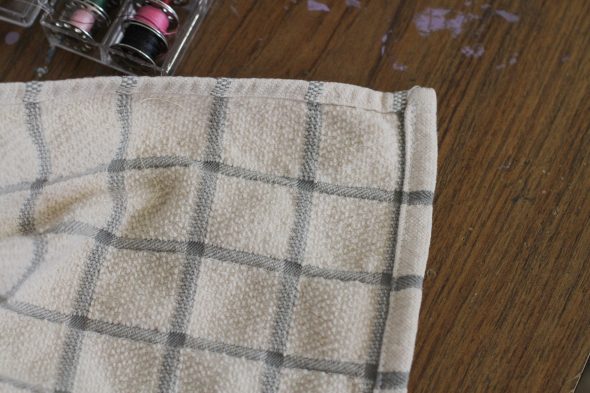 3. I'm using up my friend's extra food.
She moved last week, to a state 6 hours away. Boo.
She couldn't take all of her food with her, though, so she sent a bunch home with me rather than throwing it away.
(The good thing about being known as a food-waste-avoider is that people give you their food when they move! This is not the first time it's happened to me. Heh.)
So, I'm making a point of cooking meals that use the extras she gave me, and it's kind of a fun challenge.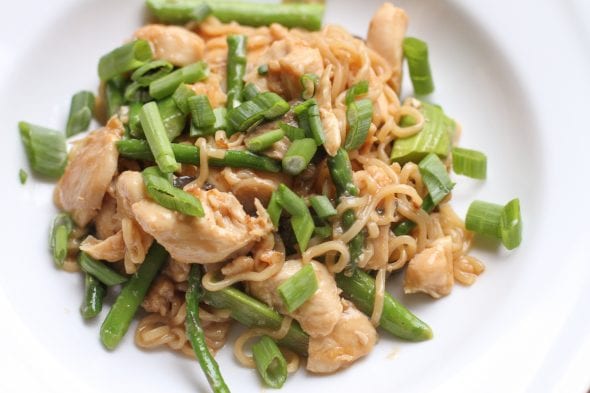 4. I put Zoe's zipper pull back together.
Her hoodie zipper pull came apart in the wash, and at first I thought it broke. But upon closer inspection, I realized it had just separated.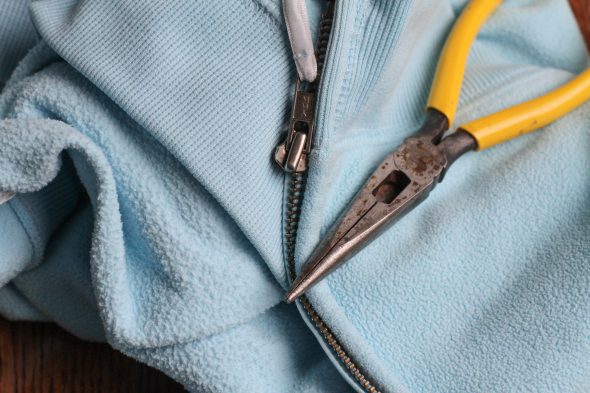 Luckily, I was able to find all the pieces in the washer, and I used a pair of needle-nose pliers to squeeze them back together. Sweet!
5. I put a Star Wars movie on hold at the library.
After my last Five Frugal Things post, a reader reminded me that my library might have the next movie for Mr. FG and the girls.  I hadn't thought to check there, as the DVD selection has gotten a lot slimmer in recent years.
But lo and behold, there it was on the website. Yay! And thank you, reader who suggested that!
6. Sneaking in a bonus one…
Sonia needs these special gel eye drops to use with her overnight contact lenses, and they are stupid expensive…like $18 for a little bottle. And the store-brand doesn't work quite as well.
So when I saw CVS had a Buy One, Get One 50% off sale, I did a little happy dance.
I had a $10/$40 purchase coupon for CVS, plus I went onto the manufacturer's website and found a $3 eye drop coupon.
I found some deals and coupons on other items too, so in the end, I got two bottles of gel eye drops, two bottles of eye allergy drops, one laundry detergent, one hand soap, and one tube of toothpaste all for $34.50, which is less than what two bottles of Sonia's eye drops cost normally.
Your turn! Have at it in the comments.