Amazon links are affiliate links.
The other day, I did a fridge organization/clean-out, and so I have a bunch of food-waste-avoidant stuff to share with you.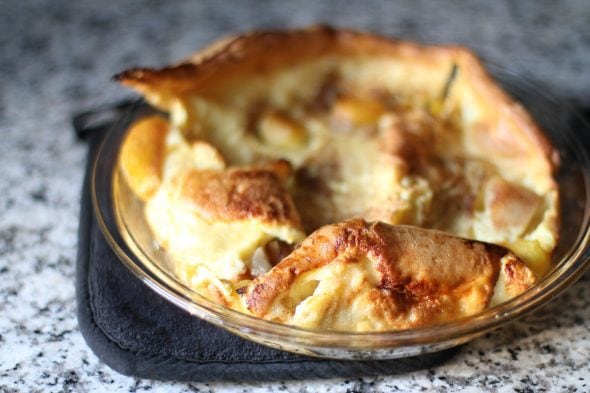 1. I froze grapes and mango
We had three almost-finished bags of grapes in the fridge. And you know that no one usually bothers to eat the last few grapes in a bag.
(Or is that just at my house??)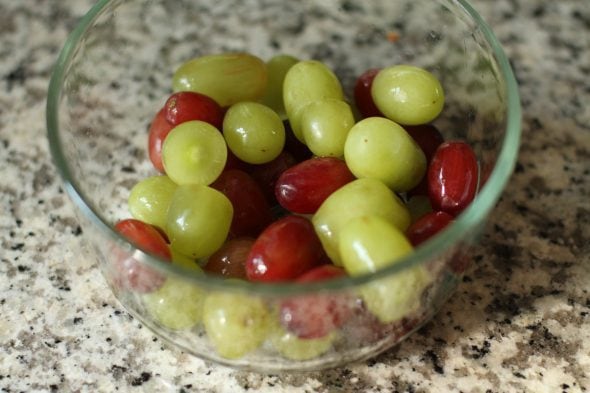 So, I sorted thru them, composted the really bad ones, and cut the wrinkly ends off the salvageable ones.
After a rinse, I threw them into the freezer for smoothie usage.
I put the ones that were still good for eating into a bowl on the counter, and they were gone before the end of the day.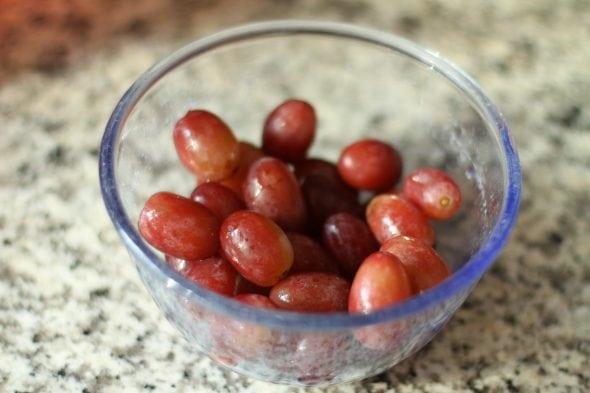 (Which is always what happens when I put produce out. Good to remember!)
While I was at it, I cut up a mango that was pretty squishy and froze it for smoothies too.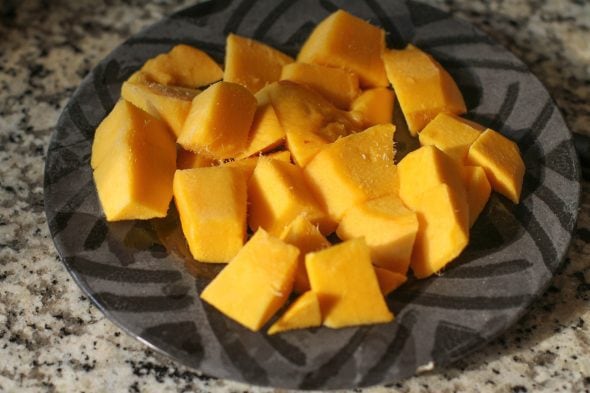 Oh, and I froze the last of a bag of spinach.  So handy to be able to do that, and the frozen stuff works just as well in smoothies as the fresh spinach does.
2. I made pudding with slightly sour milk.
The milk wasn't bad with a capital B, but I didn't really want to use it on cereal. So I made a batch of this from-scratch chocolate pudding.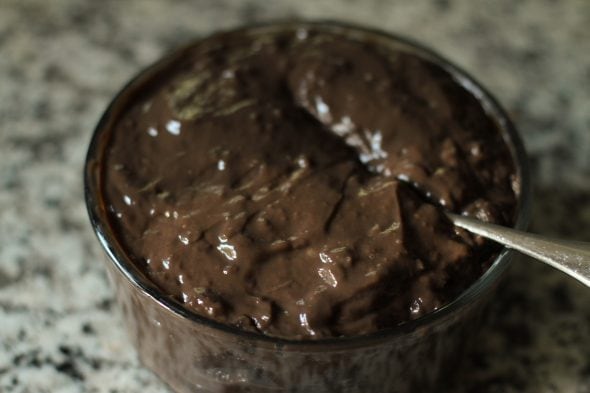 3. I cut up and washed some lettuce.
There were a few bad leaves on the outside, so I peeled those off and then cut up and washed the rest.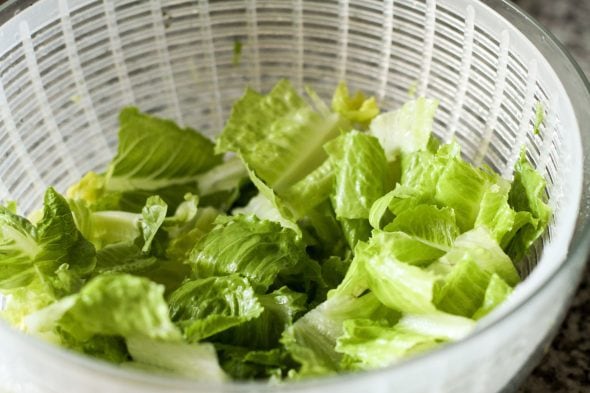 One step closer to an easy salad!
(I use that Oxo salad spinner ALL THE TIME. I got it years ago on a Cook's Illustrated recommendation, and I'm super happy with it.)
4. I made carrot bread.
I have an abundance of carrots at the moment, and I discovered that a few of them had some bad spots. I cut around those, peeled them, and made a loaf of carrot bread.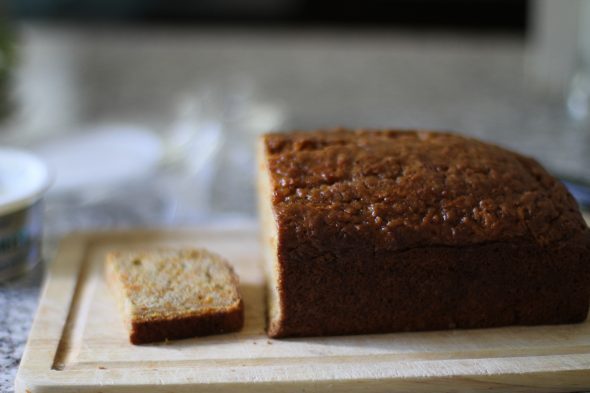 I used this recipe from The Kitchn, but I didn't make the glaze and I didn't add nuts.  And I also used less sugar than called for.
This uses 2.5 cups of carrots in just one loaf, which is pretty fabulous.
I'm thinking I'll also make some of these fabulous roasted carrots so I can use mine up.
Luckily, carrots keep really well, so I'm not in a huge rush.
5. I used up eggs and milk by making Pfannekuchen.
After the pudding, I still had some milk left to use up.  And I happen to have a wealth of eggs from a local friend who has chickens.
So I made some pfannekuchen for the girls for dinner.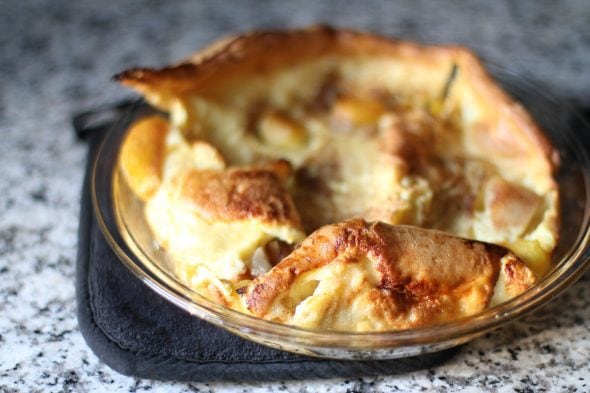 I didn't have apples, so I thawed some peaches (from my freezer stash due to my bruised peach purchases this summer!) and used those instead.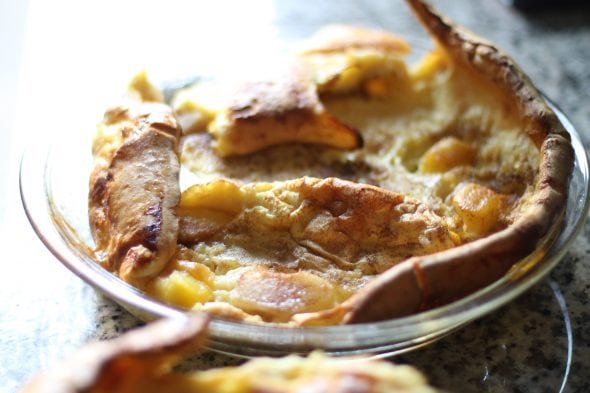 So. Now my fridge is nice and organized, and I don't think I have anything in there that's on the brink of going bad.  Yay!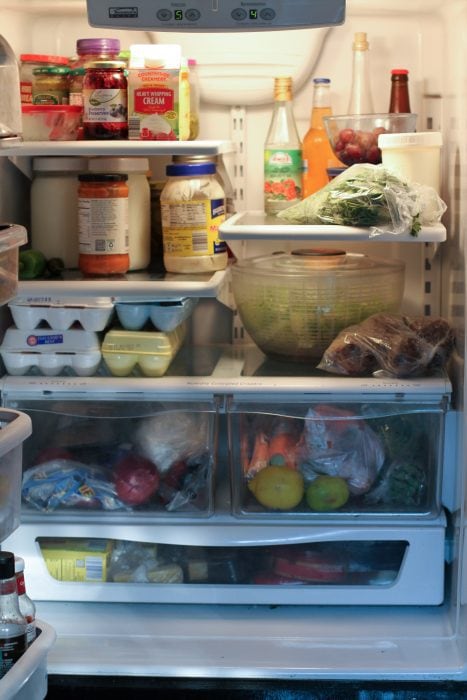 Your turn!  Share your own Five Frugal Things in the comments.
(They can be food-waste related or not. Up to you.)
Save