I have exactly 30 minutes before I have to take Lisey to driver's ed, so let's see what I can get typed in that time frame.  It's not gonna be a brilliant post full of money-saving ideas, but hey, something is better than nothing.
Thinkin' stream of consciousness is what will work best!
What's going on with my kids…
Joshua's officially graduated from high school! Well, he will be once I mail in the paperwork.
But I did at least fill it out and get it signed.
I got a kid through high school. Whoa.
(Though it kind of feels like he already graduated, since he's been doing college classes for three semesters!)
He's working full time at the coffee shop this summer to save up money for college classes and an eventual car purchase. He's not a natural-born saver, but he is doing an excellent job of squirreling away almost all of his earnings.
Lisey's midway through her daily driver's ed classroom time, plus she's working a lot of hours at the grocery store, so she's pretty much at driver's ed, ringing up groceries, or sleeping.
Which means she and I haven't gotten much time on the road together.
We'll have more time to drive once she finishes driver's ed!
Sonia and Zoe are 99.99% done with school now…we just have 2.5 chapters of science to finish up.  We had our end of the year review, so we are technically signed off.
But of course, we're going to finish the book because I'm a homeschooler and I have this thing about finishing books (even though I know books are frequently left unfinished in actual schools.)
This week we finish up our yoga and martial arts classes for the summer, which is very fabulous because I am seriously feeling the need for a lighter schedule.
Oh! More about Lisey. I'm super proud of her on two accounts.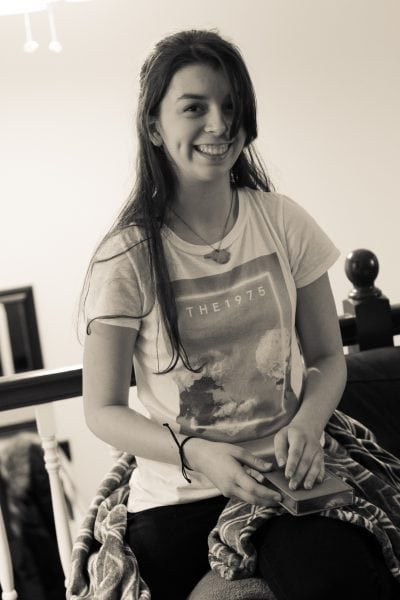 First, she ran into a very difficult situation at work, but she talked to Mr. FG and me about it and then brought it up with her managers (who were so understanding and helpful and are taking care of the situation.)  I'm so pleased that she bravely spoke up.
Secondly, Lisey provides excellent customer service no matter where she works, and so of course she's been taking good care of her customers at the grocery store.  The ice cream shop she worked at last summer gave no recognition for good service, but Lisey's new job is different. Out of the whole store, she got the most nominations from customers, and she's the first employee of the month.  Yay Lisey!
(I'm so happy that she got rewarded for what she does, but of course, what I'm proud of her for is the fact that she cares about people and is kind to them even when there isn't a reward dangled in front of her.)
Over the last year, Lisey and Joshua have both been out and about in the world a lot more than when they were younger, and my goodness, I am so thankful when I watch them. They work hard in their classes, make friends at school and at work, get good grades, self-manage their homework, and go above and beyond at their jobs.
It is just so encouraging to see how God has worked in my kids, and my mama heart is super proud of them.
Ok….my 30 minutes is just about up.
I miss writing here, so hopefully I'll be back in the blogging saddle this week. Thanks for understanding when my real life takes over here and there.