This week, I tried a recipe from the middle section of my latest Cook's Country magazine: a noodle bowl with ground pork, cucumbers, and cilantro.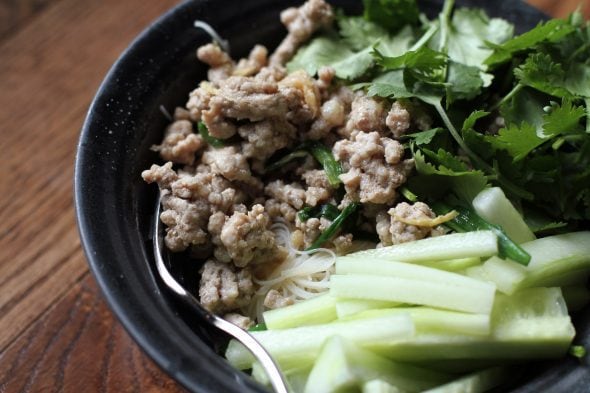 I was pretty excited about this based on the ingredients, but all of us agreed that it was lacking a bit in flavor.
Like, the sauce was good (sesame oil, ginger, garlic, soy sauce), but there needed to be a lot more of it because the noodles and the pork just tasted bland.
We doctored our bowls up with oyster sauce and soy sauce, so it was fine and no one starved.
But we were definitely not wowed by this recipe.
I don't know if I'm unusual in this, but I hardly ever encounter a meal that has too much sauce.
MORE SAUCE, I say. SAUCE ALL OF THE THINGS.
I do feel like a rice noodle bowl is a quick meal option worth pursuing, though.
So if any of you have an awesome, flavorful non-bland recipe for that, please do share in the comments.
How about you?
Did you try anything new this week? Dish!
P.S. At 9:30 pm EST tonight, I'm recording a podcast with 2 Frugal Dudes.  The edited version will be out later, but if you want to watch us live and unedited during the recording, just go here at 9:30.
Save