Skinny Scoop, the same site that ran the Books with Strong Female Characters promotion, recently emailed me to see if I'd like to participate in their latest project.
This one isn't about books…rather, it involves 10 fancy-schmancy recipes from Chef Kayne Raymond, all of which use Dare crackers.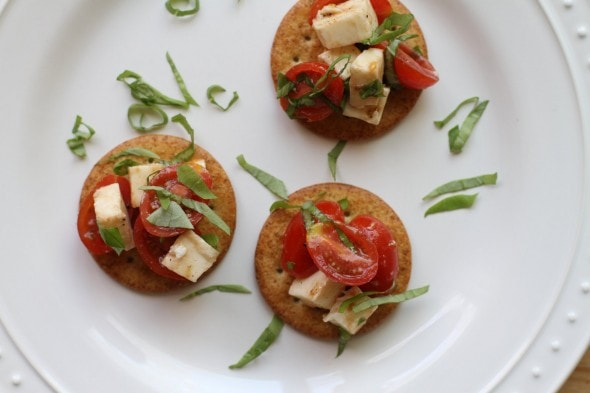 Here are the recipes you can choose from: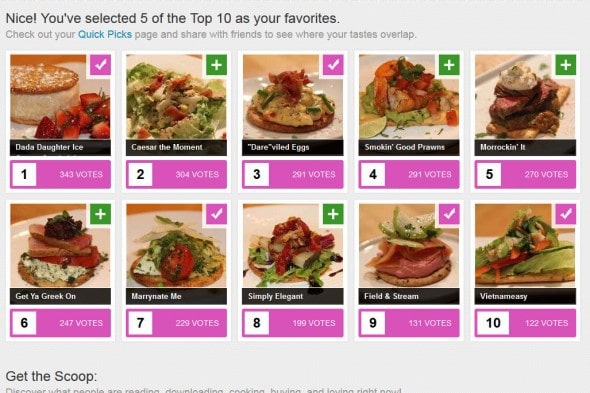 Participating in the promotion didn't require me to actually do any cooking, but after perusing the recipes, I was inspired to whip one of them up.
So many of these looked good, but I eventually settled on the Marrynate Me recipe (in the lower left corner there). I'm normally a diehard recipe follower, but I think the modification bug bit me or something because I changed several things!
The recipe called for bocconcini, but I subbed fresh mozzarella from Aldi, and instead of cherry tomatoes, I used grape tomatoes.
(Because, um, that's what Aldi has!)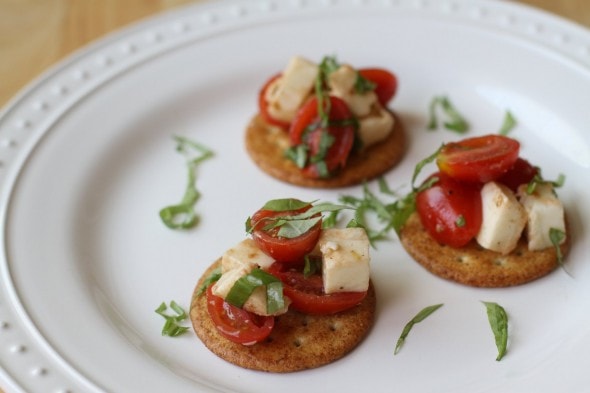 I also left out the artichoke hearts because they are not my favorite thing.
And my inadvertent mistake was forgetting to shave Parmesan (again, from Aldi!) on top of the cheese and tomatoes.
Even without the Parmesan, these were delicious, and I'll definitely make these again when I need an appetizer.
You can find the original recipe here (along with the other nine), and I'll share my version here.
Marrynate Me Cracker Appetizers
3 ounces fresh mozzarella, drained and cubed
20 grape tomatoes, halved lengthwise
1 tablespoon extra-virgin olive oil
½ teaspoon sherry vinegar
½ teaspoon salt
a few grinds of fresh pepper
2 tablespoons torn basil
1 tablespoon chopped Italian parsley
Basil pesto
Parmesan wedge
Breton Original cracker (or favorite Dare cracker variety)
Mix mozzarella, tomatoes, olive oil, vinegar, salt, and pepper and let marinate one hour.  Add herbs.  Spoon mixture on top of crackers and top with pesto and shaved Parmesan.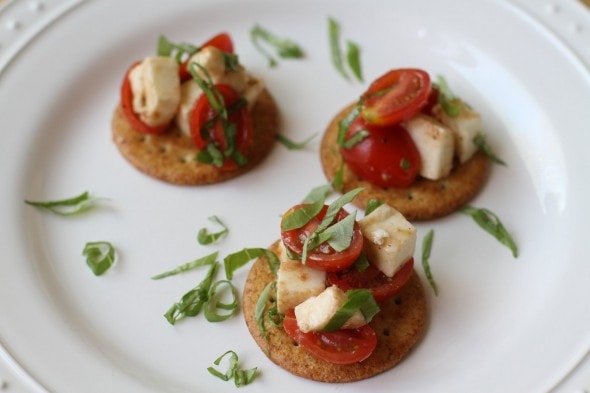 Sweepstakes
There's not one, but two sweepstakes going on with this promotion right now.
Host a Party with a Chef
New Dare crackers chef and spokesperson, Kayne Raymond, will invite one lucky winner into the kitchen for the Inspire Every Bite Sweepstakes on Facebook. Go to Inspire Every Bite Sweepstakes and vote for your favorite recipe for a chance to co-host your next party with Chef Kayne.
Feeling inspired by a different flavor? Visit every day and cast your vote for a new favorite. Each vote is a chance to co-host your next party for nine guests with Chef Kayne Raymond.
Win a $250 Amex Gift Card!
Vote for your four (or more!) fave Dare crackers' recipes by clicking on the images and sharing your picks on Pinterest.  It's easy and quick!
Be sure to click the "done" button and register your votes via email or Facebook so you are entered to win a $250 Amex gift card.
____________________________________
NO PURCHASE NECESSARY. Void where prohibited.  Read the official rules here. I received an Amazon gift card for participating in this promotion.