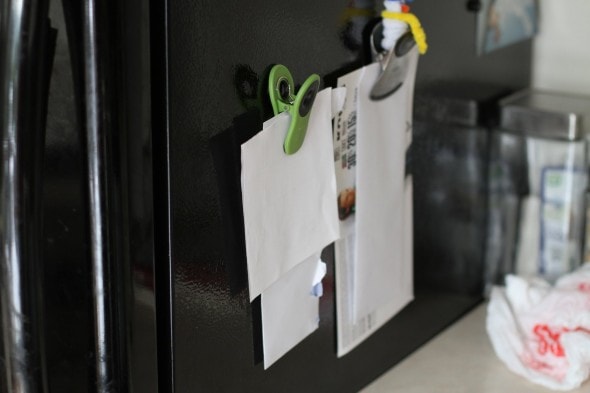 That little green clip always holds random small pieces of paper…the non-check parts of paychecks I get, the extra part left when I print coupons, used menu plans, now-defunct flashcards, and so on.
I keep them there so that when I pack Mr. FG's lunch, I can write a note and stuff it into the lunchbox before he heads out the door.
Of course, I could always just send him an email instead (and he is always faithful to send me an email when he arrives at work), but he really enjoys the lunchbox notes, despite the fact that they're written on a motley assortment of papers.
I don't know if I would manage to be as faithful at this if I had multiple lunchboxes heading out each day (since we homeschool, our kids obviously don't need lunchboxes), but with just one, it's quite do-able.
I don't think our relationship hinges on any one small thing like this, but I do think that small things add up and that faithful attention to the small things…well, that ends up being a big thing over time.
And they clearly don't have to cost a lot.
___________________________
P.S. I'm not saying everyone should write notes on the back of flashcards.  I am saying that it's a good idea to pay attention to the small things that matter in your relationship, whatever they are.
P.S. II: Yesterday I heard from Lunchbox, the PR agency that I'm working with on the Suave campaign, and they said they'd like to throw in another $50 Amazon gift card. So, now there are two $50 Amazon gift cards up for grabs-one from me and one from Lunchbox PR.
Yay!
Go throw your name in the hat.
Entries close at midnight EST tonight.