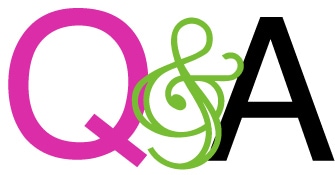 Every Monday, I answer a few of the questions that my readers send me. If you have a question you'd like me to answer in a future Q&A post, just leave me a comment here or email me (thefrugalgirl [at] gmail [dot] com) and put Q&A in the subject line. I look forward to hearing from you!

I was wondering how you felt about plastic storage containers.
I have a ton of Rubbermaid & their new recent line of canisters for sugar, flour, etc.
I also use & have a bunch of the Pyrex. But the Pyrex has plastic lids. I guess I just want my family safe…& I'm trying to be as green as I can be at the same time.
-Dorthey
I've switched out most of my plastic containers for Pyrex or stainless steel. I do still have some plastic containers for things like flour and sugar, though.
The plastic lids on the Pyrex don't bother me a great deal because they typically don't touch my food. Plus, they're very durable, and durable plastic is much more eco-friendly than disposable or poorly-made plastic.
If the plastic lids bother you, you could switch to stainless steel food containers. These are more expensive, though, and you can't see through them, which is a major downside in my opinion. When I can't see the food in my fridge, I'm so much more likely to waste it.
As a Christian, I was wondering what your perspective is on prepping or long term food/water storage?
-Suzanne
I feel fairly neutral about it. If a Christian decides to stockpile supplies, I think that's fine, as long as they're placing their ultimate trust in God and not in the supplies.
And by the same token, I don't think Christians ought to feel an obligation to stockpile.
I am about to let go of about 20% of all of my possessions. I could give it away or I could make money with it.
But how?
Do you have any ideas/resources on how to make money from what we already posses?
(Without spending hours and hour in front of the computer, trying to make it on eBay… I'm stingy with my precious time:-)
-Helena
Gosh, this is something I struggle with too, so I'm probably not the greatest person to ask! I get so frustrated with the time investment required to sell things, especially when the items don't even sell.
Because of that, nine times out of ten, I opt to give my things away, either on Freecycle or to a charity.
The only times I choose selling are when I have items that are fairly valuable. If I think I can sell something for $50 or more, then I usually feel it's worth my time.
One exception is books…I can list those super easily on half.com (here's how that site works) and print shipping labels from home, so I don't mind selling books that go for $10 or less.
You might want to see if there's a business in your area that specializes in selling things on Ebay. These stores work kind of like consignment stores…you drop your things off, they sell them for you and keep part of the profit. This would net you less money but would save you a ton of time.
_________________________________
Readers, how do you sell things without wasting a bunch of time?
And feel free to weigh in on the other questions as well.
__________________________________
Today's 365 post: Stupid blender.