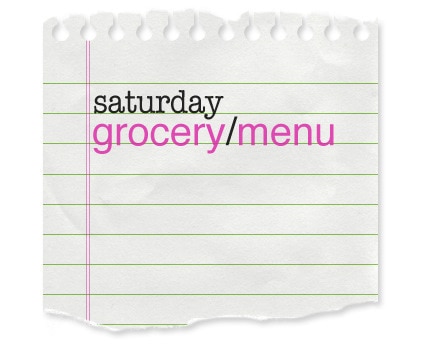 On Saturdays, I share my menu plan for the upcoming week along with a photo of my groceries and a tally of my spending. My goal is to spend $100/week for our food, toiletries, and cleaning products. I'm currently in the midst of trying to buy more local, sustainably-produced food while sticking to my budget. Can it be done? I don't know, but I'm going to try, and I'll share what I learn as I go along.
I don't have a photo of my groceries this week, so here's a spinach salad photo instead.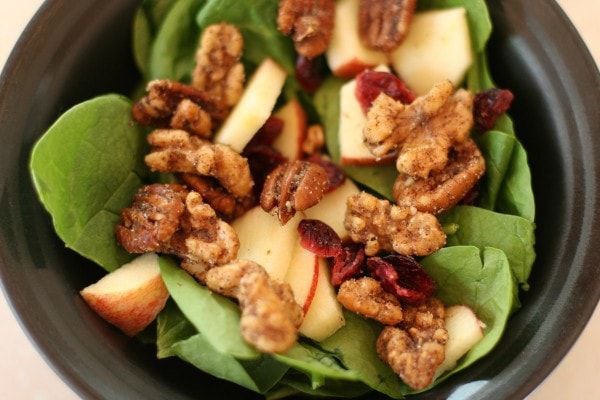 I blogged about this recipe back in 2008, and looking at my old photo, I am feeling certain that I've gotten a little better at this picture-taking thing.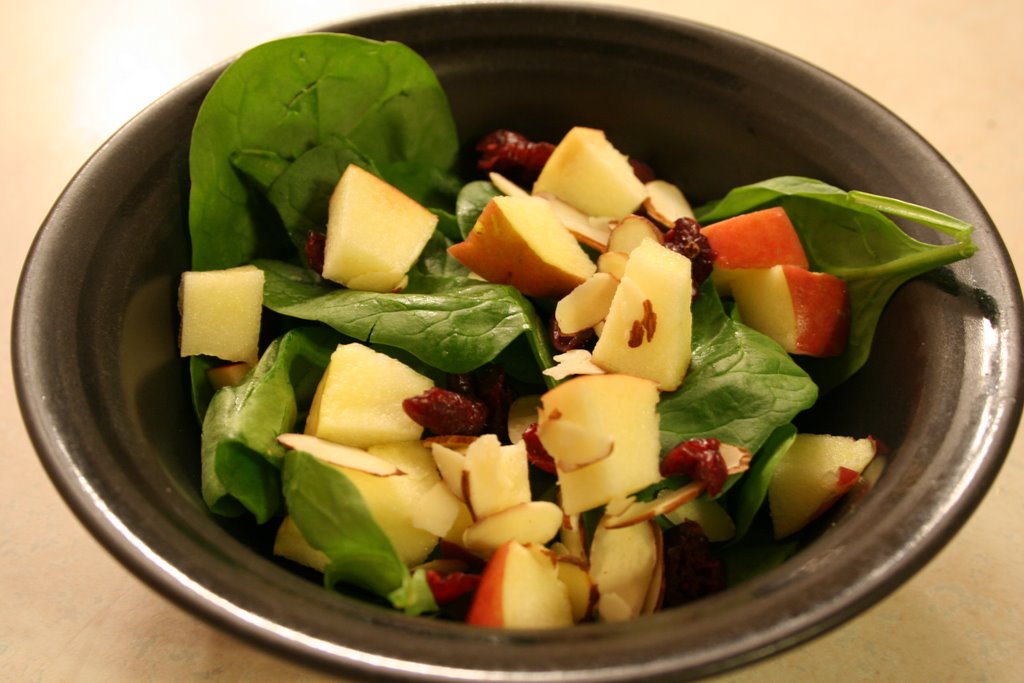 In case you were wondering, the salad in the first picture is topped with homemade spiced pecans, which are super delicious and easy. If you like pecans, you should totally make a batch. Like, today.
I went to Aldi, Weis, and Giant this week and spent $130.71.
What are we eating?
Breakfasts are the usual…cereal, muffins, yogurt, eggs, and fruit.
Lunches will be comprised of sandwiches made with whole wheat bread, homemade yogurt, yogurt smoothies, cottage cheese, fruit, raw veggies, nuts, cheese, and leftovers as necessary. Of course, we don't eat all of that every single day…it's just a list of the things we choose from for lunch each day. And Mr. FG eats leftovers for lunch pretty much every day.
Here's what we're eating for dinner.
Saturday
Sunday
Monday
Grilled Chicken Salad
English Muffins
fruit
Tuesday
Grilled Hamburgers
green beans
maybe some chips
Wednesday
My sister and I are going to go out, and we haven't decided where yet. So, we're having a TBD meal that night.
Thursday
We'll be celebrating a nephew's birthday, and he's requested pizza, so pizza it is!
Friday
a use-up-the-leftovers night (Mr. FG and I are going to try switching our take-out night to Saturday)
_____________________________
Today's 365 post: It's awfully small to be a pond
Joshua's 365 post: Babies grow up fast!